Logan Paul's tiger cub YouTube video leads to charges against California man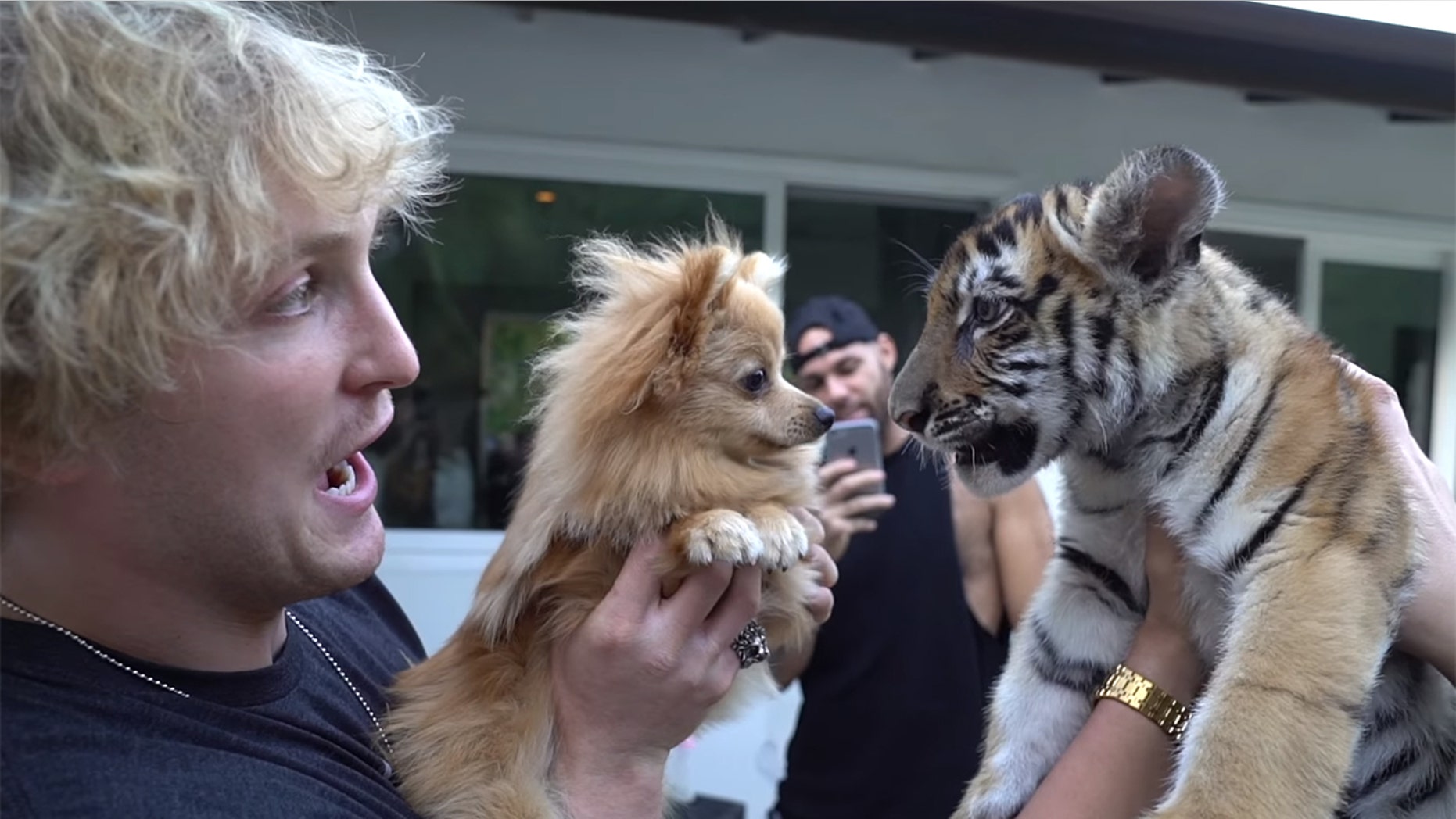 A California man faces animal abuse charges in connection with the tiger cub that appeared in a YouTube video for controversial vlogger Logan Paul, authorities said Wednesday.
Nicholas Perkins, 32, was charged with illegal possession and mistreatment of a tiger and possession of anabolic steroids, Los Angeles City Attorney's Office said in a news release. He faces up to two years and 6 months in jail if convicted.
Perkins was arrested following Paul's YouTube video posted in October 2017 and an anonymous tip to the state Department of Fish and Wildlife about seeing a model pose with the tiger cub on Instagram.
In the video, which received more than 8.2 million views as of Thursday, Paul brings his small dog to play with the car. They growl as each other as the three men watch in amusement at a home's backyard. Paul later posted the video titled, "KONG MEETS A BABY TIGER!**Showdown**" with a disclaimer that stated it was "filmed in a closed environment with animal professionals." It's unclear if one of the three men was Perkins.
"Tigers and other exotic animals are not pets," Los Angeles city attorney Mike Feuer said in a news release on Wednesday. "Keeping these potentially dangerous animals in a residential setting poses a serious safety risk for residents and animals alike."
Officials executed a search warrant on Perkins' home in November 2017 and took the cub into custody. The animal was then placed in a large rescue and sanctuary facility in Los Angeles and has since recovered from its injuries.
"During the search, there was extensive evidence of the animal's poor living conditions and the presence of anabolic steroids. The defendant was allegedly feeding the tiger cub kitten milk replacement formula with a baby bottle," Los Angeles City Attorney's Office said.
YOUTUBE STAR LOGAN PAUL'S RISE AND FALL FROM INTERNET FAME
Paul received a wave of criticism earlier this year after he posted a video which showed the body of an apparent suicide victim in Japan.
In the controversial video titled "We found a dead body in the Japanese Suicide Forest," which was taken down, Paul and his companions came across the body in the Aokigahara forest at the base of Mount Fuji -- a frequent site of suicides in the country.
Paul received major backlash for the video and prompted YouTube to temporarily suspend ads on his channel — a main source of the money he earns as a vlogger.
Fox News' Madeline Farber contributed to this report.