Leah Remini and Jada Pinkett Smith end their Scientology-inspired feud
By Morgan Evans
Published October 19, 2018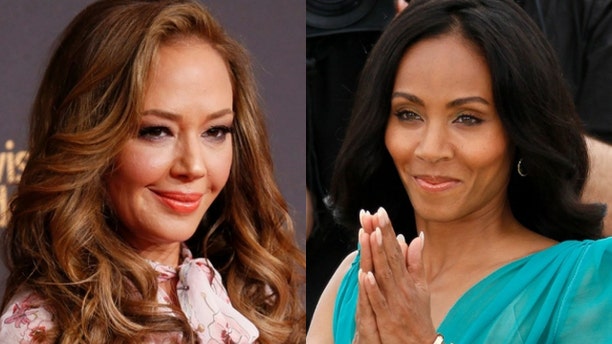 Actresses Leah Remini and Jada Pinkett Smith have buried the hatchet. The two stars, who engaged in a public feud after Remini accused Smith of being a Scientologist, have made amends.
In a new interview with People, Smith revealed she sat down with the former "King of Queens" star to talk about the actresses' feud for an upcoming episode of Smith's Facebook show "Red Table Talk."
"What was really emotional about it was realizing that there was two broken little girls in us that were abandoned by their fathers and turned into fighters who clashed," the "Gotham" actress told People of her feud with Remini.
In a 2017 interview with the Daily Beast, Remini, who belonged to the Church of Scientology for 35 years before parting from it in 2013, said that Smith was also part of the controversial church.
"I know Jada's in. I know Jada's in," she said of Smith. "She's been in Scientology a long time," Remini told The Daily Beast. "I never saw Will [Smith] there, but I saw Jada at the Celebrity Centre. They opened up a Scientology school, and have since closed it. But Jada, I had seen her at the Scientology Celebrity Centre all the time."
Following the release of Remini's interview with the Daily Beast, Will Smith's wife quickly shut down Remini's claims. The actress said in a tweet, "I have studied Dianetics, and appreciate the merits of Study Tech but I am not a Scientologist. I practice human kindness, and I believe that we each have the right to determine what we are and what we are not."
But since last September, the two seem to have moved past their public disagreement, with Smith telling People that being able to sit down with Remini and talk about the incident was exactly what they needed to move forward.
"You have to treat people with kindness because you don't know what they're going through," she said. "When she told me her story, I had so much more compassion and it reiterated the necessity to just be gentle and kind because we're all f---ing devastated."
Smith also revealed that the sit-down wasn't her idea, explaining that Remini was the one who extended the olive branch.
"It was really beautiful and she reached out to me," Smith said. "She was much more bigger than me in that way. It was nice to reconnect and release ourselves from all that nonsense that doesn't matter."
The episode of "Red Table Talk" featuring Remini will stream on Facebook on Oct. 22.
https://www.foxnews.com/entertainment/leah-remini-and-jada-pinkett-smith-end-their-scientology-inspired-feud