Kristen Bell's husband Dax Shepard blasts 'bulls---' tabloid story about the couple's 'kinky' sex life
By Morgan Evans
Published October 11, 2018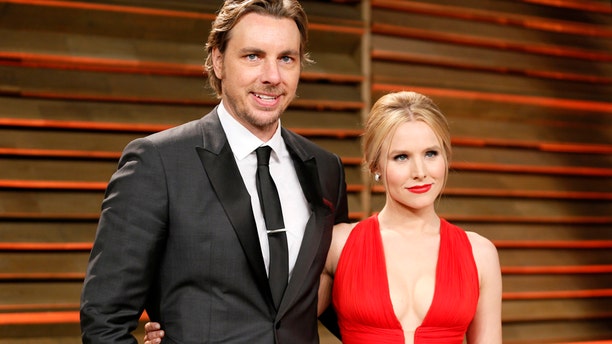 Kristen Bell's husband, Dax Shepard, lashed out at an "offensive" tabloid story regarding his sex life with Bell.
On Wednesday, the actor posted a screenshot of a comment request on Instagram he received from a tabloid asking if he or Bell would like to respond to reports that they have "discussed having threesomes" and enjoyed "S&M and role-playing."
In response to the email request, Shepard blasted the outlet, calling their story "bulls---."
"The only offensive thing about this bulls--t story is that @kristenanniebell isn't doing all this kinkiness out of horniness, but rather a desperate attempt to save her marriage," the star captioned his post. "I think we all know Bell is a lot more gangster than that."
Later, Bell responded and reposted her husband's message on her own Instagram page.
The couple, who have been married for five years and share two children, may have shut down the tabloid rumors about their wild sex life, but have never been shy about sharing personal details of their lives with fans.
In a recent podcast interview with comedian and actor Marc Maron, Bell opened about her recreational drug use.
"I like my vape pen quite a bit," Bell told the "Glow" actor according to Us Weekly. "Weed rules. Weed is my drug of choice, for sure."
But the star admitted that when it comes to other drugs, she isn't well-versed — she has never tried cocaine and suspects she did ecstasy once, after taking a mysterious pill at a concert in college, but then she joked that it was probably just a Tic Tac.
"I feel like I would maybe want to do it once before I die," Bell said of trying cocaine, but added that she has never been someone who is the life of the party. "I have that kind of a face and personality that if I'm at a party, no one brings it out. They're like, 'Oh don't bring that around Kristen.'"
But despite never trying any of the "harder" drugs, the actress said that her husband, who "The Good Place" actress previously noted has been sober for 14 years, thinks she would love ecstasy if she tried it.
"He just feels you shouldn't leave earth without trying ecstasy or mushrooms," Bell explained. "He wants to have an ecstasy party with all of our friends. He wants to have everyone get an overnight babysitter that we trust, put all the kids together, then come to our house, check your keys, and then have one of his buddies there and just give everybody really good ecstasy and just have us all braid each other's hair or something."
https://www.foxnews.com/entertainment/kristen-bells-husband-dax-shepard-blast-bulls-tabloid-story-about-the-couples-sex-life