Jim Carrey crudely mocks Trump-Kim summit in latest 'artwork'
By Elizabeth Zwirz, ,
Published June 12, 2018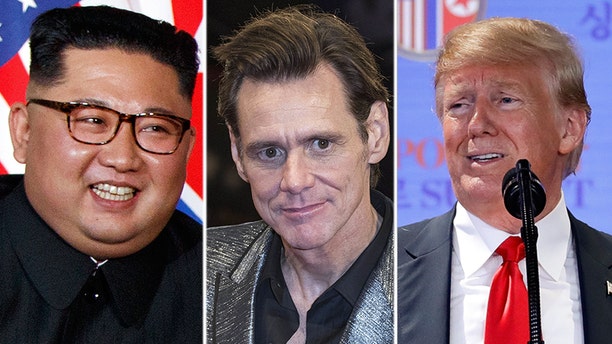 Jim Carrey shared his newest drawing early Tuesday, this one seemingly taking aim at President Trump and North Korean dictator Kim Jong Un amid their historic summit in Singapore.
In the caricature from the actor, Trump, sporting a blue suit and red tie, appears to be holding a microphone for a speaking Kim, who seems to be dressed up as a missile. The North Korean's outfit reads, "I STARVED MY PEOPLE TO MAKE THIS MISSILE." Kim also appears to be giving the hand symbol for peace while raising up a sign saying, "LITTLE ROCKET MAN."
JIM CARREY IS GETTING POLITICAL WITH ARTWORK BUT IT'S FAR FROM THE FIRST TIME HE'S REINVENTED HIMSELF
Accompanying the tweet, Carrey also wrote this caption: "Let's Make A Deal: You'll be a real world leader. I'll sway the midterm elections. And together we will save the world from the bloodthirsty Canadians."
In the past, Trump has referred to Kim as "Little Rocket Man," one of the nicknames levied at the rogue regime's ruler over the course of their at times tumultuous relationship.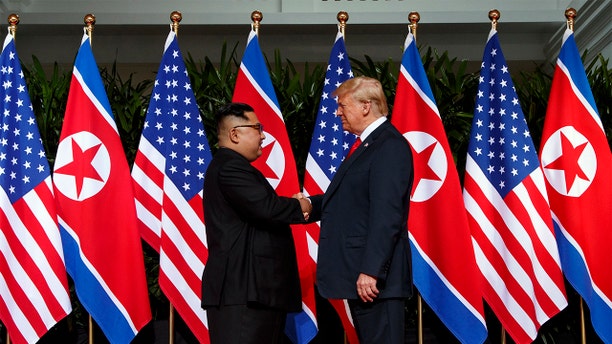 The illustration comes on the heels of a highly-anticipated summit between the world leaders, who before departing from Singapore on Tuesday, signed a document promising to work for "complete denuclearization of the Korean peninsula."
TRUMP, KIM JONG UN MEET IN SINGAPORE: WHAT HAPPENED AT THE HISTORIC SUMMIT?
During the summit, Trump promised to end the yearly military drills between the U.S. and South Korea. He and Kim also signed an agreement for the recovery of the remains of U.S. soldiers who died during the Korean War, as well as the immediate repatriation of those who have already been identified.
Carrey's image Tuesday is not the first time he's visually gone after the president. In March, the actor posted a drawing depicting Trump as the Wicked Witch of the West. First lady Melania Trump, as well as White House Press Secretary Sarah Sanders, have also been targeted in Carrey's images.
Fox News' Kaitlyn Schallhorn, Nicole Darrah and Tyler McCarthy contributed to this report.
https://www.foxnews.com/entertainment/jim-carrey-crudely-mocks-trump-kim-summit-in-latest-artwork