Jessica Simpson's Sheer Top, Justin Bieber's 'Today' Show Tirade, and Much, Much More
By ,
Published February 21, 2017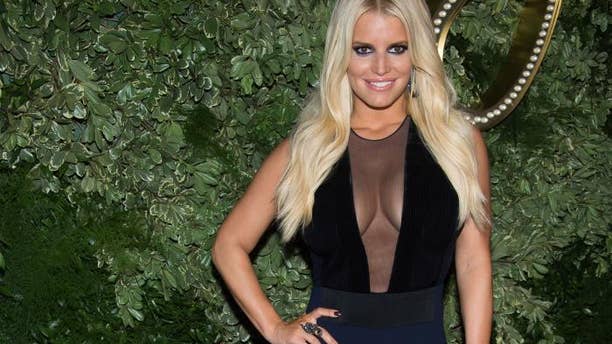 Here's what all the hubbub's about:
• Jessica Simpson celebrated her fashion brand's 10th anniversary with a party at NYC's Tavern on the Green, where she arrived in a partially sheer jumpsuit that showcased her ample sense of style (above). In fact, Jessica had so much style, it appeared to be spilling out onto the floor. She just couldn't contain all that style!
• Seconds after his live performance on Thursday's "Today" show (and before "Today" could cut to commerical), Justin Bieber berated the camera crew for filming him too closely (below). "Might as well not even dance," he said, referring to the fact that the camera couldn't possibly see the cool thing he probably just did with his feet. (Must've been really cool, though.)
• According to a source for Us Magazine, "Mad Men" actor Jon Hamm and longtime girlfriend Jennifer Westfeldt split up because he wanted children and she didn't. The source didn't specify why Westfeldt was so adamant on remaining childless, but we're guessing she'd rather her kids didn't go through life with Westfeldt-Hamm as a surname, lest they sound like little pork processing facilities.
• Victoria's Secret supermodel Candice Swanepoel posed in various states of undress for the inaugural issue of My Town magazine, described as "a first-of-its-kind lifestyle magazine that provides an insider's view of New York City" (below). Oddly enough, New York City looks a lot more like a pantsless babe than we imagined:
• Speaking of Swanepoel's lack of pants, we recently interviewed the Angel about the ensembles she feels sexiest wearing, and it turns out pants are an integral part. Watch the video below for Swanepoel's full remarks, along with her choices for the makeup must-haves every woman should own:
• According to the Nielsen ratings, viewership for "The Late Show" dropped a whopping 44 percent on the second night of Stephen Colbert's tenure. But in fairness, that's the same night Jimmy Fallon welcomed Justin Timberlake to "The Tonight Show," so this trend isn't expected to continue once Colbert strikes up a bromance with Joey Fatone.
• FX debuted the first trailer for their upcoming season of "American Horror Story: Hotel" on Thursday (below), but despite the creepy schoolchildren and eerie bondage dungeons, the most disturbing aspect of this "hotel" is that there aren't any visible ice machines or gym facilities on the premises. It's madness!
• Thursday marked the 25th anniversary of "The Fresh Prince of Bel-Air," which made its debut on American television on September 10, 1990. In related news, Thursday also marked the 25th anniversary of the day you got the "Fresh Prince" theme song stuck in your head for 25 straight years.
• Thursday night on Instagram, Katy Perry posted a snapshot of herself sharing a hookah with a latex-clad artist known only as the Permaid (below). And here we thought we were the only ones hiding a bondage/companionship gimp on the grounds of our estate!
• In response to criticism over being too young to portray a middle-aged woman in her next film "Joy," Jennifer Lawrence told the New York Times that she's done it before (e.g., "American Hustle," "Silver Linings Playbook"), and it's always worked out fine. But we have a feeling that won't silence any detractors, who likely include every middle-aged actress in Hollywood aside from Meryl Streep.
• Netflix has debuted a teaser trailer for their upcoming series "Jessica Jones," which is based on a Marvel superheroine of the same name who starts up her own private investigation firm (below). So if you plan on understanding all the little in-jokes and references in the next four "Avengers" movies, first you'll need to sit through eight hours of this:
https://www.foxnews.com/entertainment/jessica-simpsons-sheer-top-justin-biebers-today-show-tirade-and-much-much-more