Jamie Foxx to daughter's boyfriends: You mess up, 'I will cut your head off'
By Nicki Gostin, ,
Published April 20, 2016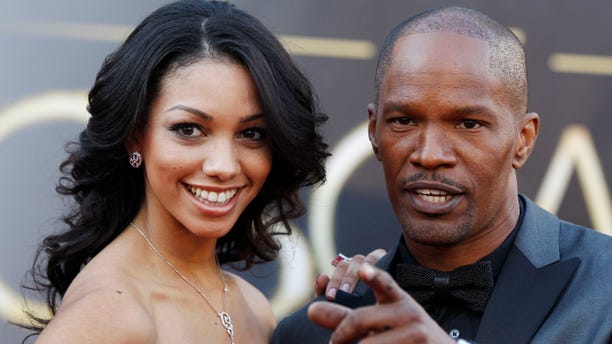 Jamie Foxx has an electrifying new role as one of the villains in the latest "Spider-man" installment as the very creepy Electro. The 46 year-old Oscar winner, who attended the New York premiere with his four year-old daughter Annalise, spoke to FOX411 about playing such a delicious baddie, raising two daughters and his extraordinary career.
FOX411: Were you a fan of Spider-man? Did you know who Electro was?
Jamie Foxx: Oh yeah. I knew Electro and Max Dillon. Electro came out on the Ultimate Spider-man as a cartoon and Max from the comic book. Max was interesting because that's who I really wanted to create from the comic book. He used to be married, his wife left him. Mom dotes over him, Father didn't raise him so he has some broken pieces and then the comb over with the bald head was just something we came up with to give him some more character flair.
FOX411: How long did the makeup take?
Foxx: Makeup for Max not that long. Put the thing in my mouth and we're on our way. But for Electro it was like four and a half hours every day.
FOX411: Four and a half hours! What did you do?
Foxx: Talk s**t, sleep, read, tweet. It goes [fast] because of great people you're working with. It's fun and it's all for the greatest cause, you're in "Spider-man."
FOX411: You have such a positive energy about you.
Foxx: Some people are just designed that way, but I learned a little bit of that too. I learned not to take yourself so seriously because sometimes I'd be like, 'Oh I gotta be serious,' and then I'd watch someone like Tommy Davidson who was on 'In Living Color,' and he's having a ball. I said, 'Now I want to work hard, but I want to have a ball, have a good time and spread that good nature.'
FOX411: Your career has been a great mix of films.
Foxx: To be honest I have a great management team that is very smart. If you look from D'Jango to "White House Down," although not that successful, to go from a slave to President, to go from President to a villain and then from villain to Daddy Warbucks in "Annie." You look at your management and you just go, 'Wow thank God for you guys,' and then of course it's up to me to execute it.
FOX411: Are you able to enjoy things more, not be so frantic?
Foxx: It's a different kind of frantic. Like now it counts. I'm taking that money and putting it somewhere because of my kids and my family, now it all counts. In your 30's you're like, 'Hey man what's happening?' Where we going, what we doing?'
FOX411: You were famous for some legendary parties.
Foxx: It used to be that if there was a holiday, there'd be a party with girls, and now when it was Easter, it was like 90 kids and me saying, 'Uh nuh get off of that,' and 'Get down from there!'
FOX411: Any one party stand out?
Foxx: The last one was a BET party. Everyone came in, Snoop Dogg, T.I, Timbaland, then a unicorn walked in. Kanye. Kanye doesn't go anywhere. I've only done those parties because I wanted to have fun and because I want to bring artists together. My Christmas party, Eddie Murphy over here, Salma Hayek over there, Game and Snoop and everybody in between. I wanted to bring all these cool people together.
FOX411: You have a 20-year-old daughter. How do you deal with boyfriends?
Foxx: You have to be vigilant in the fact that if there's any guy that wants to occupy your daughter's time you have to make sure that if he knows he does anything wrong, I'm going to cut his head off, and be literal in that sense. The only reason you do that is because if people feel there's no consequence they will act out. You love your kids. You protect them as much as you can, and you tell them as much as you can that guys are terrible, guys are the worst and they're going to tell you that you're absolutely wrong. "He loves me and you don't know what you're talking about. You make me sick!" We've had all those conversations.
FOX411: I saw you had a very special date on the red carpet. Your four-year-old girl Annalise. Does she get you're a big star?
Foxx: That's what's funny about her. She says, "They're screaming for my Dad," or she'll ride with me and she'll say, "Dad I want them screaming for me like they scream for you." It's fun. I'm relaxed as opposed to being younger and more frantic. Now I'm able to take my family, show here what it is and show her what Dad does.
https://www.foxnews.com/entertainment/jamie-foxx-to-daughters-boyfriends-you-mess-up-i-will-cut-your-head-off