EXCLUSIVE: Stevie Nicks Says Doc Almost Killed Her, Ruined Chance of Becoming a Mom
By Hollie McKay, ,
Published April 08, 2016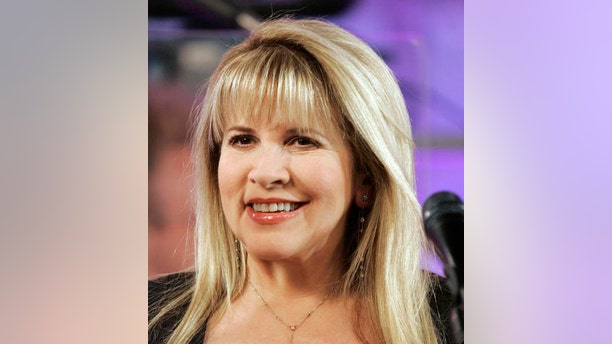 Stevie Nicks has been to hell and back and lived to write some more songs about it.
Along with being the lead singer for the legendary rock band "Fleetwood Mac" and a successful solo artist, the songstress has also had a lengthy battle with addiction, entering rehab once for cocaine and a second time for pills.
So now at age 62, with a new album drawn from her personal diaries being released this week, what is Nicks' greatest regret?
"The only thing I would change is walking into that psychiatrists office who prescribed me Klonopin," Nicks told FOX411's Pop Tarts in an exclusive interview in her Pacific Palisades mansion. "That ruined my life for eight years."
Klonopin is a tranquilizer generally used to treat seizures and panic disorder. Nicks said it was not for her.
"That was just a stupid doctor making a groupie mistake and just wanting me to come in there, tell him about all my music friends and young Hollywood and that nearly ruined my life and nearly killed me," Nicks said. "That's eight years that I could have. God knows, maybe I would have met someone, maybe I would have had a baby. That was my prime eight years. That was a big mistake. Everything else was exactly how it should have been."
Nicks is looking back as she releases her first studio album since 2001. "In Your Dreams" is a collection of songs she said came directly from her years of journals.
"It is real, the experiences are real," she said. "I'm not a storyteller, because I don't make up stories. The stories are real."
And when you're a superstar like Nicks, recording an album doesn't even require leaving the house.
"We had the best time, we had dinners every night for ten or twelve and we discussed politics and the world and music and art and things that were going on," she said. "And it was like being in Paris in the 20s when all the artists would gather on Sundays and eat dinners and discuss the world. We did that, and we did it for almost a year."
One dinner guest was Reese Witherspoon, who met the rock and roll queen through her parents.
"I met Reese's mom first on an airplane and she is just insane, she is darling. She was going to Nashville and I talked to her the whole way, she had a little Yorkie with her and we instantly bonded. I was going to do a session there and invited her to come," Nicks said. "Never in a million years did I think she would actually come but she did, along with Dr. Witherspoon. They came and spent six hours in the studio as the audience as I worked on a new vocal, so after I met the mom I then met Reese the daughter."
The Oscar-winning actress even came up with a name for one of the tracks on Nicks' new album: "Cheaper Than Free."
Despite the accolades the singer has garnered over the years – more than 40 Top 50 hits and selling over 140 million albums – she is still anxious to see how the world will receive her latest studio offering.
"It is huge pressure, but I needed to make a record, I needed to write songs and be the artist that I have always told everybody I am," Nicks continued. "I'm sorry that the music business is a mess and I'm sorry that the Internet piracy has taken over movies, music, art, books and everything else. but this is not going to stop me from being an artist. But I don't let myself get excited about anything until I know it is doing well. I don't want my feelings hurt."
While she doesn't want her feelings hurt, unlike most Hollywood women, Nicks says she has no fear of age.
"Probably the most exciting part of my life is ahead of me. I want to write a screenplay for a movie for Rhiannon (based on the hit 1976 Fleetwood Mac song.) That story is from the Welch Maginogi (Medieval prose tales) and it is a huge, beautiful, crazy story and a big thick book," she said. "I've been trying to do it since 1978 but I never have the time so I look forward to the time when my life starts to wind down. Maybe the next 25 years will be the best 25 years. I'm not afraid of getting old."
Unfortunately, Nicks will have a hard time promoting the album right off the bat as she fell ill with pneumonia just after our interview and canceled a slew of scheduled shows across the country.
https://www.foxnews.com/entertainment/exclusive-stevie-nicks-says-doc-almost-killed-her-ruined-chance-of-becoming-a-mom