ESPN among 'worst offenders in the nation' regarding sexual misconduct, ex-governor says
By Dom Calicchio, ,
Published April 02, 2018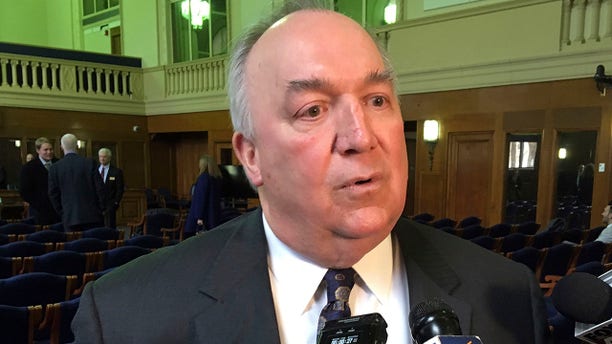 A former Republican governor of Michigan took ESPN to task Saturday during a fiery exchange with a reporter for the sports network over recent sexual misconduct allegations involving Michigan State University.
Michigan State coach Tom Izzo was set to speak about his team's win Friday over Bucknell when ESPN reporter Dan Murphy asked former Gov. John Engler: "Do you not think Michigan State is one of the worst offenders of sexual assault right now?" the Detroit Free Press reported.
"Oh, I think ESPN is far worse than many companies in America today."
Murphy countered, "That's not the question I asked you. Do you think Michigan State is a worse offender of that?"
"Look at the sexual assaults you guys are dealing with as a company. It's pretty serious. In many ways, their company is one of the worst offenders in the nation," Engler said.
"So we have a sexual assault challenge in America today. But for Michigan State, we're dealing with it on our campus."
Engler, who served as Michigan's governor from 1991 to 2003, was recently appointed interim president of Michigan State following the university's ties to the scandal involving Larry Nassar, the sports doctor who sexually abused Olympic athletes. The fallout led to the departures of the school's president and athletic director.
As Engler noted Saturday, the self-described "worldwide leader in sports" has had to deal with its employees being accused of sexual misconduct.
Most recently, former ESPN employee Adrienne Lawrence alleged in a lawsuit that the network has a culture of sexual harassment that includes retaliation against women who raise objections.
"ESPN is, and always has been, a company rife with misogyny," the lawsuit alleges, according to the Connecticut Law Tribune.
In response to a December Boston Globe story about sexual misconduct allegations at ESPN, the network said that it takes sexual harassment issues seriously, pointing to the fact that it had suspended radio hosts Donovan McNabb and Eric Davis after they were accused of sexually harassing an employee at NFL Network.
But in making his case, Engler did not dismiss the problems that Michigan State is dealing with, the Free Press reported.
"I think Michigan State, like lots of universities, has many challenges," Engler said. "Michigan State alone had Nassar. He was not a doctor at any other campus. And so that is something that has caused us great pain and is a great challenge for us and the 225-250 women who filed litigation. That's a very serious issue.
"But when you talk about sexual assault on campus, Title IX cases, then that's something we're dealing with. And I think when we're finished with the changes we're making, we're going to be very proud of the campus we've got, the security that we have and the record that we set."
Fox News' Frank Miles and Caleb Parke contributed to this story.
https://www.foxnews.com/entertainment/espn-among-worst-offenders-in-the-nation-regarding-sexual-misconduct-ex-governor-says