Ed Sheeran responds to controversy that he was underdressed while performing with Beyoncé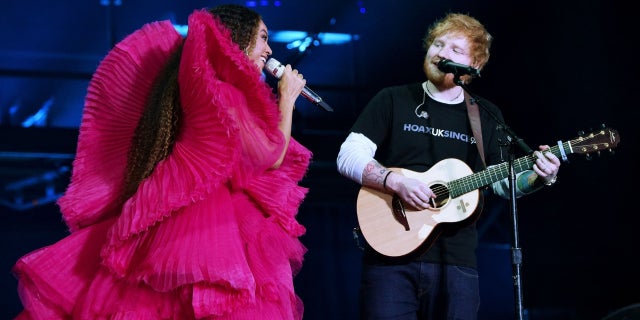 Singer Ed Sheeran responded to social media criticism that he was underdressed compared to Beyoncé when the two performed together on Sunday and sparked a debate about double standards.
Social media users were sent into a frenzy after Sheeran and Beyoncé sung a duet together at the Global Citizen Festival in Johannesburg. The "Shape of You" singer donned a black T-shirt with jeans, while the "Drunk in Love" crooner wowed in a pink gown. Social media users immediately debated on Sheeran's outfit choice.
"Ed Sheeran is a 27 year old man the fact we've enabled him to feel OK to dress like this at all, let alone next to Beyoncé really boils my p---," a social media user wrote.
"I get this. Even though I appreciate good musicians in normal clothes the double standard is ridiculous … what is expected of female vs male artists," a tweet read.
"This photo is very representative of what we expect from men and women at the top of their game, isn't it?" a social media user tweeted.
Sheeran took the criticism in stride and addressed it in his Instagram story. He shared the title of an article that said people were angry with his outfit choice. He then shared a photo of his shirt with the hashtag #dresstoimpress and "swipe up to 'get the look.'"
Despite the criticism, a number of social media users pointed out that Sheeran often chooses a more casual look for his shows and appearances.
"It ain't that deep, Beyoncé likes showing off her outfits, always has, while Ed Sheeran is a casual guy who wears casual outfits no matter the circumstance, quit making everything a gender issue in our society it's the reason there are so many issues in the first place," a social media user pointed out.