Donald Trump troll doll crowdfunding campaign KO'd by NBC
By ,
Published March 14, 2017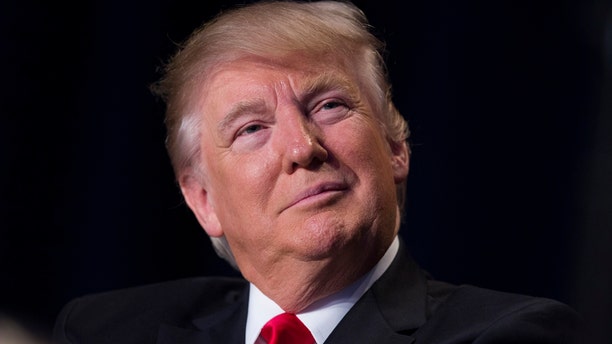 Crowdfunding is a fantastic way to gauge public interest for a product, with Internet users validating ideas with their hard-earned cash.
Former Disney sculptor Chuck Williams is a prime example of giving the people what they want, with his Kickstarter campaign aimed at turning President Donald Trump into a Troll doll quadrupling its goal in the first week alone.
After Mr Williams debuted a naked Troll-doll version of Trump on Facebook back in early February, his 12 cm-tall doll was met with praise.
A subsequent Kickstarter campaign to mass-produce the Trump mockery was chasing $38,000 to cover the cost of bulk manufacturing the doll.
Much to his surprise, the project attracted 3,621 backers and received over $160,000.
IVANKA TRUMP'S FINE JEWELRY LINE SHUTTING DOWN IN FAVOR OF MORE 'ACCESSIBLE PRICE POINTS'
"This figure is near and dear to me and thankfully it seems to have brought a smile to all sides of the political spectrum," he posted in an update, reported NY Daily News.
"The response has taken me a little by surprise!! I am very grateful to have made so many people happy with this sculpture."
Things were looking up and up for project, until NBC Universal put the project on hold with a pending legal dispute.
"The Official World's Greatest Troll Sculpt By Chuck Williams is the subject of an intellectual property dispute and is currently unavailable," the Kickstarted page now reads.
"If you are interested in this project, please check back later. Thanks for your patience."
Another page further explained the issue, claiming the product breached the copyright of NBC Universal's child company DreamWorks Animation.
"[NBC] owns the associated intellectual property related to animated film franchise DREAMWORKS TROLLS, which is based on the famous 'Dam Trolls'/'Good Luck Trolls' created by Thomas Dam," the DMCA request reads.
TOBY KEITH: INAUGURATION PERFORMANCE MADE ME 'STRONGER'
"In 2012, DWA acquired the copyright rights to the Dam Trolls/Good Luck Trolls from Thomas Dam's holding company on a global basis. This includes all of the original visual elements in relation to the Dam Trolls/Good Luck Trolls character, including the furry up-combed hair, naked and pot-bellied figure, and other distinctive physical features.
"This Kickstarter campaign is and has been infringing DWA's intellectual property rights, including copyright, in the Trolls Property by offering for sale Trump troll dolls relating to the Trolls Property without license or authorisation."
Following the legal threat, The sculptor shared a Change.org petition on his Facebook page, which is asking NBC Universal to drop their copyright claim.
"By trying to prevent the dissemination of this art, you are stifling both political speech and artistic expression," the petition read.
Mr Williams has since posted an update on his Facebook account, indicating he is fighting the legal action.
FOLLOW US ON FACEBOOK FOR MORE FOX ENTERTAINMENT NEWS.
"With the help of my top notch legal team I have responded to the dispute on Kickstarter. To all those involved in mounting my defence, and you know who you are, I can't thank you enough!!! Now we wait for a response. Thank you All for your continued patience and support in this project that never ceases to amaze me! Chuck," he wrote.
This story originally published in news.com.au.
https://www.foxnews.com/entertainment/donald-trump-troll-doll-crowdfunding-campaign-kod-by-nbc