Director Judd Apatow slams Donald Trump's 'cult-like' followers over John McCain jabs
By Tyler McCarthy
Published March 22, 2019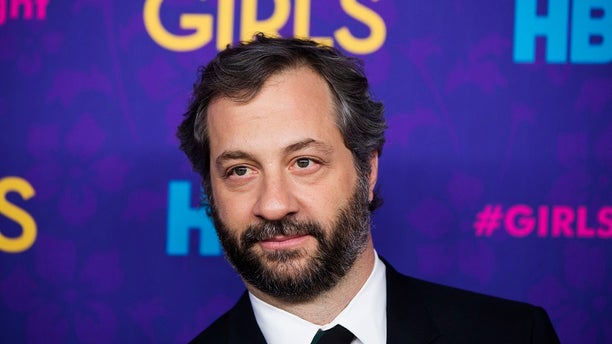 Director and producer Judd Apatow is the latest celebrity to take a direct shot at President Trump over his ongoing attacks against the late Sen. John McCain. The star went as far as to condemn the people supporting the president in the midst of the controversy.
As previously reported, Trump has been fixated on McCain lately, criticizing the senator, who died in August, through a tweet, interviews with reporters as well as at a recent speech to Ohio plant workers.
It's the speech that raised the ire of the "Funny People" director, who responded to a CBS reporter who tweeted about the "pro-military" crowd's silence during Trump's remarks.
ARNOLD SCHWARZENEGGER CALLS DONALD TRUMP'S ATTACKS ON JOHN MCCAIN 'UNACCEPTABLE,' MOCKS PRESIDENT'S PHYSIQUE
"At some point even cult like Trump zombies will realize the madman they have supported cares for no one," Apatow responded.
His anger at the president didn't stop there. He responded to another tweet lambasting Trump's digs against McCain as a distraction from his other shortcomings.
TRUMP CONTINUES TO CRITICIZE MCCAIN AFTER BIPARTISAN CRITICISM
"He thought it would be easier to attack a dead man since he is losing his fight with all of the living human beings — then he found out he was wrong," Apatow wrote.
This is hardly the first time that the director has been an outspoken critic of Trump. A cursory look at his Twitter feed reveals a slew of posts and retweets that are critical of the current administration.
He's also not the only celebrity with an ax to grind with the president when it comes to his comments about McCain. Arnold Schwarzenegger took shots at Trump in a recent interview with The Atlantic as well.
CLICK HERE TO GET THE FOX NEWS APP
"[John McCain] was just an unbelievable person," Schwarzenegger said. "So an attack on him is absolutely unacceptable if he's alive or dead — but even twice as unacceptable since he passed away a few months ago. It doesn't make any sense whatsoever to do that. I just think it's a shame that the president lets himself down to that kind of level. We will be lucky if everyone in Washington followed McCain's example, because he represented courage."
https://www.foxnews.com/entertainment/director-judd-apatow-slams-donald-trumps-cult-like-followers-over-john-mccain-jabs