CNN hit 'disgusting' new low by harping on Kanye West's mental health and dead mother, critics say
By Brian Flood
Published October 12, 2018
CNN's attacks on Kanye West hit a fever pitch Thursday following the rapper's White House appearance, with disturbing references to his race and mental health that incredulous critics called "disgusting."
The mental health of West, who has previously sought treatment for psychological issues, was repeatedly questioned by CNN personalities, with S.E. Cupp saying West is "clearly not OK" and Van Jones claiming the rapper is "not in a healthy place from a mental point of view." CNN's "Reliable Sources" newsletter called the White House meeting with President Trump, who West supports, "sad" and highlighted commentators who "expressed concern" for West's well-being.
"Cuomo Prime Time" namesake Chris Cuomo declared that West shouldn't be taken seriously because he once admitted to having mental health issues.
"His personal history reads more as a rationale for keeping him from something like this, than indulging him," Cuomo said. "Multiple reports, his own statements, it all makes clear that he has struggled and admitted diagnoses for personal mental health issues. While he raised legit issues of jobs and inner city concerns, when you hear the dissociative ramblings of a man one prized for his intellect and education, there's something wrong there."
Cuomo went on to speculate what was going on inside Trump's head during the meeting – "blacks love Trump," the CNN host imagined the president thinking as West spoke in the Oval Office. CNN political analyst April Ryan even trolled West by asking his wife's former sex tape partner for comment on the meeting.
However, comments made by "CNN Tonight" host Don Lemon pushed the network over a line in the eyes of many critics.
Fox News contributor Deroy Murdock thinks CNN Worldwide President Jeff Zucker's network hit rock bottom with Lemon, who said West put on a "minstrel show" and that his late mother is "rolling over in her grave."
"CNN's latest new low finds Don Lemon rooting around beneath the Time-Warner Center's subterranean parking lot. His reference to Kanye West as a 'minstrel' needlessly recalls the ugly days of white performers in blackface, and black actors mugging with their eyes bugging out, nearly to the breaking point," Murdock said. "Lemon's mention of West's deceased mother was exceeded in nastiness only by the TV host's mocking West's mental-health struggles."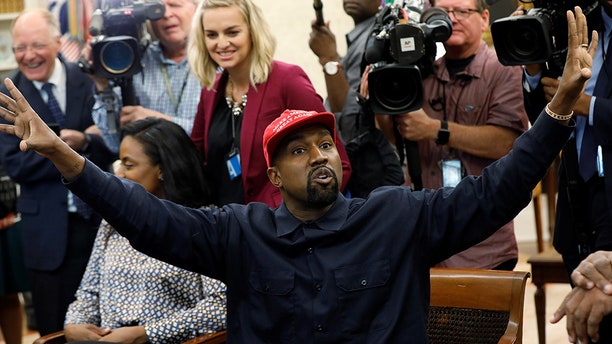 SiriusXM host Tim Young told Fox News that he can't recall "a single moment" in cable news history when someone was talked about the way CNN covered West, which he called 'disgusting."
When have we ever seen an adult's political opinion blown off because of how their mother would have thought, let alone having their deceased mother invoked to say they shouldn't believe a certain way on a major news network," Young said.
Lemon's comments were even denounced on his own network, as CNN political commentator Steve Cortes ripped into him for evoking West's late mother. Donda West died in 2007 at age 58 from complications related to a surgical procedure. West has spoken and even sung about his heartbreak from losing his mother.
"You know, Don, you said this meeting was embarrassing. I think quite frankly what's embarrassing is the condescension you've shown to Kanye West," Cortes told Lemon directly on Thursday night as the CNN host essentially ignored the criticism by saying, "I don't have the energy."
Football legend-turned-activist Herschel Walker called for CNN to fire Lemon over a segment slammed as "racist" and that was before the events that took place on Thursday.
Walker was upset over a Tuesday night discussion that began with Lemon asking if Trump is simply "using Kanye as a prop to win over black voters before the midterms."
Lemon eventually laughed as guests on his program called West a "token negro of the Trump administration" and "what happens when Negros don't read."
While MSNBC embraces its progressive programming lineup, CNN fancies itself as nonpartisan and refers to Lemon as an "anchor" instead of a host or pundit despite being the "CNN Tonight" star frequently spouting far-left talking points in the form of opinion.
Former White House Press Secretary Ari Fleischer told Fox News that the time has come for CNN to come clean regarding where the network stands politically.
"One these that dominates all their coverage is 'what's wrong with Donald Trump,'" Fleischer said. "It is not the place to go to for hard news or for neutral news. It's a mini MSNBC and they ought to admit it."
CNN did not immediately respond when asked for comment.
https://www.foxnews.com/entertainment/cnn-hit-disgusting-new-low-by-harping-on-kanye-wests-mental-health-and-dead-mother-critics-say