CMA Awards outfits that stunned fans, from Taylor Swift's sheer gown to Reba's revealing red dress
Country music stars have been known to turn heads at the Country Music Awards (CMAs) — and it's not only due to their shocking political jabs or viral moments onstage. Over the years, their outfit choices, in particular, have also caught fans' attention.
While many artists take home coveted awards on country music's biggest night, others may snag an official prize: "best dressed" or "most buzzworthy attire."
Country superstar Reba McEntire knows this all too well. The now 63-year-old crooner became a fashion icon during her performance at the 1993 awards show.
CMA AWARDS JAW-DROPPING MOMENTS, FROM MIRANDA LAMBERT'S EYE ROLL TO REBA MCENTIRE'S PLUNGING RED DRESS
"I didn't win an award, but I did make the front page of the paper the next day!" she joked to People in 2016.
And it was all because of her sparkly, plunging red gown.
As musicians and bands prepare to walk the red carpet again ahead of Wednesday night's event, take a look back at some of the most stunning – and somewhat bold – fashion statements they've made through the years.
Carrie Underwood, 2017
Carrie Underwoods sophisticated royal blue off-the-shoulder dress was the talk of the red carpet at the 2017 CMAs.
The host of the award show wore a total of 10 different dresses throughout the event, according to Bustle, which documented each and every one. But the more formal gown was definitely a fan favorite.
Underwood has become a pro at quick outfit swaps, though she admits she doesn't practice ahead of time.
"When we get the running order of the show, we're like, 'OK these are complicated so we're gonna need more time,' so we try to just plan where things that might need a little more time get a little more time," she dished to People in 2017. "And there are easy changes, like, 'Oh, we have five minutes, that's a lifetime in TV-quick-change world. We make the time count."
Her quickest change ever was just 40 seconds back in 2012.
"That 40-second quick change we tried in rehearsal because it was such a fast change, and I run backstage and someone holds a sheet up and I busted a zipper in rehearsal," she told the magazine. "And everybody was worried I was not going to make it back out for the actual show and I was like, 'It's OK, we'll fix the zipper.' The zipper was one of those little hidden, flimsy plastic zippers. So they trusted me and we made it work. But during the entire run-through I had to hold the back of my dress shut."
Tayor Swift, 2016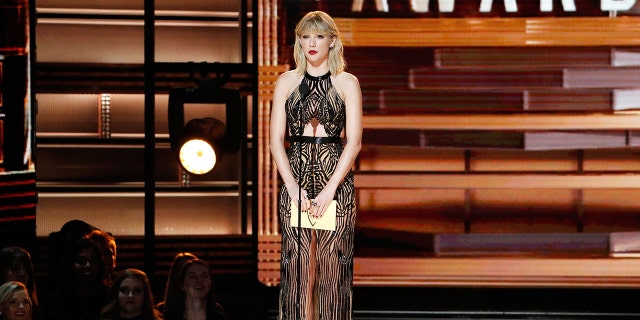 In 2016, Taylor Swift broke her three-year CMAs hiatus to present an award for Entertainer of the Year.
Her appearance surprised fans, and her outfit did as well. The Internet was abuzz about Swift's "sexy" look and media sites pointed out it was "quite a departure" from her previous – more conservative – outfits.
The black sheer, cutout gown with a thigh-high split was designed by Julien Macdonald, according to Harpers Bazaar.
CMA AWARDS: EVERYTHING YOU NEED TO KNOW ABOUT COUNTRY MUSIC'S BIGGEST NIGHT
"Hi, Nashville. It's been almost 13 years since I came [here] with a dream to be a songwriter and recording artist, and I learned so much about what it means to be an entertainer from the remarkable artists in this arena tonight. That's one of the reasons I feel so honored to present this award to any one of these five outstanding nominees for Entertainer of the Year and be a part of this historic night we will always remember," Swift told the crowd before presenting the top prize to Garth Brooks, Cosmopolitan reports.
Chris Stapleton, 2015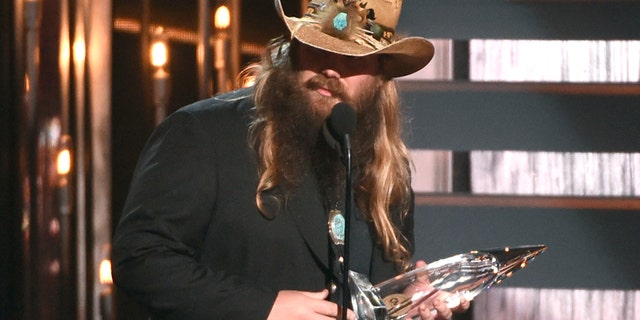 Chris Stapleton's statement pieces certainly added a pop of color to his outfit. Fans praised the singer's feathery cowboy hat and gushed over his turquoise jewelry as he took home three awards in 2015, including male vocalist of the year.
"This is unbelievable. I don't know what to say. I don't know what to think," Stapleton told the audience after accepting the prestigious award. "Thank you so much for the love."
Sam Hunt, 2015
Sam Hunt was compared to a "sexy priest" during his performance of "Take Your Time" at the 2015 CMAs.
Country music fans quickly took to Twitter to weigh in on the singer's outfit choice.
"Things I'm learning: Sam Hunt makes a very pretty priest," one Twitter user commented.
"Why is Sam Hunt, who's singing 'Take Your Time,' dressed sort of like a hot priest? Not complaining. Just wondering," another pondered.
"When did Sam Hunt join the cloth? #CMAawards," one woman asked.
His white collar-black sweater combination even inspired a radio station to start a poll, asking fans to choose what he looked most similar to — a pilgrim or a priest.
Little Big Town and Ariana Grande, 2014
Little Big Town and Ariana Grande had a "lit" performance in 2014 with their collaboration on "Big Bang."
The artists donned outfits that glowed in the dark as well as lit up the stage. Grande later gushed about the performance online.
"Was an honor to perform on the #CMAs tn! thanks so much @littlebigtown for welcoming me on your stage. the sweetest. y'all sounded amazing!" the then 21-year-old singer tweeted.
Reba McEntire, 1993
McEntire turned heads as she grabbed the mic to perform "Does He Love You" at the 1993 CMAs donning a plunging red velvet gown.
The crowd "oohed and aahed" during McEntire's performance — and it wasn't entirely because of her impressive vocal range.
More than a decade later, people are still commenting about "that dress."
REBA WEARS INFAMOUS RED DRESS AT ACM AWARDS
"It was very revealing and I didn't know that!" McEntire told People in 2016. "I had only had two fittings with [designer] Sandy Spika. One was at our office and I said, 'I think you need to fill some more stuff in!' When I put it on in the dressing room at the Grand Ole Opry for the show, I thought, 'Maybe it's just the lighting in here.' And when I walked out on the stage, I heard the audience go 'Oooooh!' And I thought, 'Dang, I look good!'"
McEntire can't help but grin now when she looks back at the iconic moment.