CMA Awards: Carrie Underwood dons bubble wrap dress after terrifying fall that left her with 40 stitches
Following her terrifying fall last year that left her with 40 stitches, Carrie Underwood is now joking about the accident.
While hosting the 2018 CMA Awards with Brad Paisley, the 35-year-old star received a bubble wrap dress from her co-host, which she rocked on stage.
"Last year, I don't know if you all heard, but two days after last year's show, she took a really bad fall," Paisley, 46, explained to the audience.
"So tonight that's not gonna happen again," he insisted. "Not on my watch! Put this on."
"Yeah, I'm not gonna wear this," the "Cry Pretty" singer told Paisley as he popped several of the bubbles on her new outfit.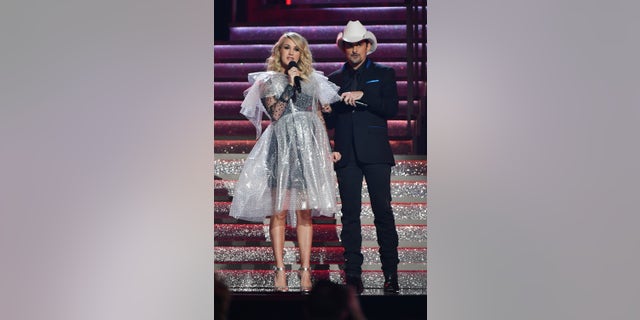 Last November, Underwood fell on the steps outside her Nashville home. The singer stayed out of the spotlight for months as she recovered from the injury, which left her with a broken wrist and roughly 40 stitches.
Speaking about the accident, Underwood said she simply missed a step while heading outside to walk her dogs, and it could have happened to just about anyone.
"I just fell. I just tripped taking my dogs out to do their business," she told TODAY's Hoda Kotb in May.
"I say if I'd fallen anywhere else it wouldn't have been a problem, but there was just one little step that I went to catch myself on, and I missed."
Earlier in the show, Underwood also seemed to announce that she and husband, Mike Fisher, are going to welcome their second son.
"Remember last time when I accidentally revealed the gender of your baby?" Paisley asked her.
"Tonight we're going to reveal something even more exciting — who your baby's father is!" he teased before questioning the soon-to-be mom of two about the sex of her baby.
"Johnny or June? Tim or Faith? George or Tammy?" he asked among other names before Underwood finally exclaimed: "It's a Willie!"
Back in August, Underwood announced on Instagram that the couple was expecting again.
"Mike and Isaiah and I are absolutely over the moon and excited to be adding another little fish to our pond!" Underwood gushed.
"This has just been a dream come true, with album and with baby news and all that stuff. We're just so excited, and just so glad that you guys can share in this with us."
Fox News' Jennifer Earl contributed to this report.