Boston Globe slammed over Sheldon Adelson cartoon
By Lukas Mikelionis, ,
Published December 07, 2017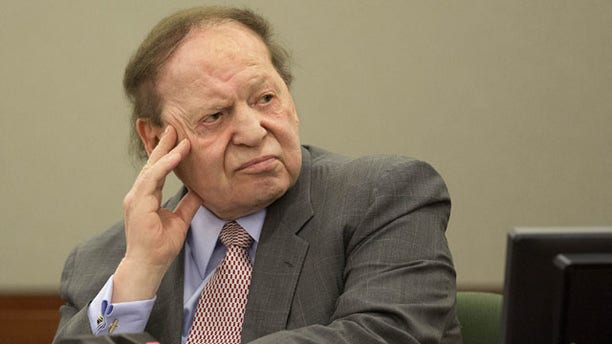 A Jewish community leader has slammed the Boston Globe for publishing a cartoon depicting Jewish billionaire casino magnate Sheldon Adelson.
The cartoon by Ward Sutton, titled "Murder on the Tax-Cut Express," appeared Friday. It portrayed the GOP tax reform bill – which the Senate approved Saturday – as a giveaway to Republican donors at the expense of others.
But the caricature of Adelson "evokes classic anti-Semitic imagery and reinforces existing stereotypes," Robert Trestan, New England regional director of the Anti-Defamation League, complained to the Globe in a letter.
The drawing shows ordinary Americans as the train's "freight" in a packed cattle car while Adelson is portrayed as sitting with his wife Miriam Adelson in a "priority passengers" section, getting served a bag of cash labeled "$14.6 billion."
In his letter, published Monday, Trestan writes that his group was "deeply disturbed and offended" by the cartoon.
"The portrayal — singling out, among all the donors and interests who stand to benefit, a prominent Jewish individual, Sheldon Adelson; depicting him with an exaggerated hooked nose; linking him with money; and positioning him as hidden inside the train while others conduct — evokes classic anti-Semitic imagery and reinforces existing stereotypes," he writes.
"At a time when hatred and bigotry of all forms are seeping into the mainstream, it is critical that the Globe and other responsible media outlets refrain from giving additional aid to those who no doubt will see this cartoon's publication as further verification of long-established anti-Semitic views."
The Globe printed Trestan's letter Monday but did not respond. The newspaper did not immediately respond to a Fox News request for comment.
https://www.foxnews.com/entertainment/boston-globe-slammed-over-sheldon-adelson-cartoon