Ashton Kutcher's Debut Brings Big Numbers for 'Two and a Half Men'
By ,
Published April 08, 2016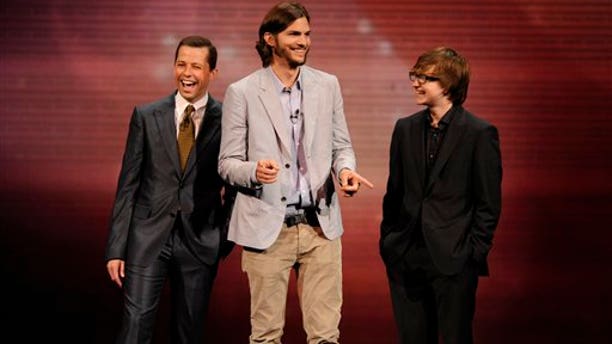 The official ratings are out and Ashton Kutcher's debut on "Two and a Half Men" brought in big numbers for the show.
Kutcher's debut nearly doubled last year's premiere numbers, bringing in 27.8 million viewers, according to a report from USA Today.
Earlier this summer, Moonves boasted that he was hearing talk of "huge numbers," even "AFC championship-type" numbers for the Kutcher-led premiere, according to The Hollywood Reporter.
The premiere followed Charlie Sheen's Sunday televised well-wishes for the cast at the Emmy Awards.
While presenting the award for Outstanding Actor in a Lead Comedy Series, Sheen said: "From the bottom of my heart, I wish you nothing but the best for this upcoming season. We spent eight wonderful years together and I know you will continue to make great television."
It was a far cry from Sheen's earlier characterizations of co-star Jon Cryer, when he labeled him a "turncoat and a troll."
Comedy Central's Roast of Sheen also aired Monday night, and the embattled actor toured the talk-show circuit promoting it, stopping by "The Wendy Williams Show" Monday  and "The Today Show" last week.
Kutcher's debut was met with mostly positive reviews, but in a FOX411 poll, 39 percent of respondents said they missed Charlie Sheen, while 32 percent who thought Kutcher was a good replacement. Twenty-nine percent said it was too soon to tell.
https://www.foxnews.com/entertainment/ashton-kutchers-debut-brings-big-numbers-for-two-and-a-half-men