'Ash vs Evil Dead' star Bruce Campbell: 'I can't get far enough away from Hollywood'
By Stephanie Nolasco, ,
Published February 28, 2018
If there's one person who refuses to die, it's chainsaw-wielding Ash Williams — and actor Bruce Campbell wouldn't have it any other way.
The 59-year-old, who first brought the character to life in the low-budget film "Evil Dead" back in 1979, alongside his friends Sam Raimi and Rob Tapert, has developed a massive cult following. Campbell is back for a very bloody Season 3 of STARZ's "Ash vs Evil Dead," which promises a groovy time for fans who just can't get enough of the franchise.
Fox News spoke with Campbell about what viewers can expect from the series, why he left Hollywood and whether another movie will be in the works.
Fox News: You reside in Oregon. As an actor, how has it been to live far away from Hollywood?
Bruce Campbell: I can't get far enough away from Hollywood. I love living with people who are real and genuine and sincere. Hollywood, I wouldn't call it a town full of sweethearts.
There's a lot of people trying to get rich and famous there. It brings out sometimes the worst in their behavior... as we've been seeing. Hey, Hollywood, if there's anybody left, turn the lights out. It's a place that I don't really relate to. I like neighbors who are loggers and ranchers. Who've been hippies and crazy posse comitatus. Those are my neighbors.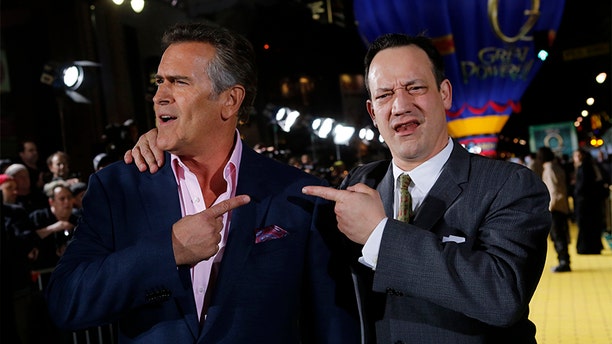 Fox News: How do your neighbors feel about the fact that you're an actor?
Campbell: My neighbors, they don't care at all. A guy came up as soon as I moved in. He drove up to my driveway. He goes, "I understand you're a cowboy on a TV show." I said, "Yes, sir." He goes, "Well, why don't you get your ass on a horse this Saturday and help me run a hundred head of cattle up the road?" I was like, "Are you serious?" He goes, "Serious as a heart attack." I went, "You got a horse?" "Yeah, I got a horse." (I said,) "Well, I guess I'm helping you on Saturday."
I mean, I'm not a cowboy, but I can ride a horse. I went down there and met all my neighbors in one day. I met more neighbors in one day in Oregon than in the last three years of living right next to somebody in Los Angeles. You never talk to them. I like the social dynamics of it.
Fox News: What can fans expect from the new season of "Ash vs Evil Dead?"
Campbell: They can expect the unexpected. This season we're going to blow the doors off the place. We're going to burn the town down. Everything will be different by the end of the season. That's what to expect.
Fox News: How exciting has it been for you to film and bring this new season to life?
Campbell: It's a difficult show to do. When you say fun, be careful with that word. I've found over the years that something that's easy to make is hard to watch. Thankfully, our show is hard to make so, hopefully, it's easy to watch. Creatively, it's always a blast.
Fox News: Ash first originated in 1979's "Evil Dead." Did you ever believe fans would still be talking about him and his adventures in 2018?
Campbell: Yes. We knew this all along that we would be successful 40 years later. We knew it all along. We didn't even think we would finish the first movie. We're fortunate to be able to bring this character back. The last time I played Ash was about 25 years ago. It's nice to bring some actual experience to playing that character.
Fox News: How different has it been for you to play Ash now in comparison to when you first started?
Campbell: Now there's a lot more stretching before fight scenes. I pulled a hamstring two years ago. It's never fun. Now I have the hardest working man in show business. Raicho Vasilev from Bulgaria, he's my stunt guy. He does a great job. He hurts himself a lot.
Fox News: It sounds like it doesn't get easier holding onto that chainsaw.
Campbell: No. No. Physically, the show gets harder every year. Eventually, hopefully, we'll be canceled soon. Kidding. Kidding.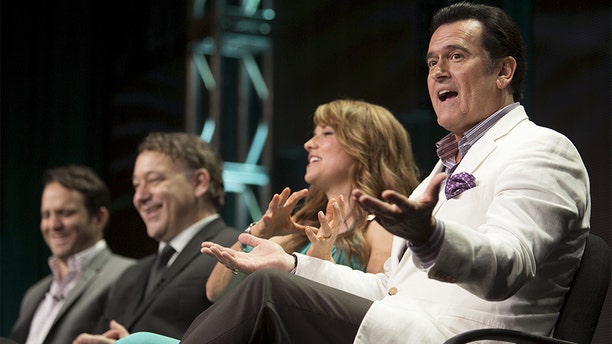 Fox News: What's your friendship like with Lucy Lawless after all this time?
Campbell: Lucy is great. Lucy Lawless keeps me well-behaved on the set. She's never had a bad day. She's one of these people who ... She's a lovely Kiwi. She goes home for dinner every night. She lives in Auckland, New Zealand. It's always great to work with her because she's always very pleasant and very professional. Oh, yeah. She's also awesomely beautiful.
Fox News: We're living in this era where shows and even films are experiencing all kinds of reboots and remakes. As an actor, what's your take on this?
Campbell: I think Hollywood's file drawer is only about 30 years deep… Not long ago, we were doing TV shows from the '80s and making them into movies. I think what happens is, the studios love using stuff that they already down. It doesn't cost them anything. They open the file drawer and Jenkins pulls out a thing. He goes, "Hey. 'The Brady Bunch' as a live event musical."
Whatever. I think it's just human nature to a degree to just reuse stuff. I don't know. Sometimes nostalgia takes over. We want to eat that nice meatloaf sandwich kind of entertainment. I don't know. It depends on how cynical each generation is.
Fox News: How do you feel about a younger generation of viewers discovering "Ash vs Evil Dead" for the first time?
Campbell: I'm glad for any new viewers to watch. They need to be prepared, I think, to some degree. This is basically unrated television, so you've got to be prepared for what you're going to get.
That's half the fun for "Evil Dead" fans. You get to go somewhere and watch carnage and mayhem pretty much like you've never seen it before. We don't do the mean-spirited stuff though. I would call our gore exuberant. Come by and have fun. It's only a half hour long.
Fox News: What's the strangest encounter you've ever had with a fan?
Campbell: I've had a lot of strange encounters with fans because I go to a lot of these conventions. It's a nice place where people can let their freak flag fly. They don't get to do this weird stuff at home. I got weird poetry a couple of times. People thought that I would really like it because I'm a horror guy. I must love everything that's horrific. You get some of that.
Fox News: So no babies named Ash?
Campbell: Oh, yeah. I've met children named after Ash. Absolutely. Yeah. There was a kid named Chuck Finley who was an alias I had on the show "Burn Notice." Yeah. Oh, yeah. I have kids all over the country named after me.
Fox News: Can fans expect a new "Evil Dead" movie in the future?
Campbell: We made this show in response to fans demanding a movie. Don't be holding your breath too long. If you think about it, by the time we're done with Season 3, that's 15 fresh hours of new material. You wouldn't get that with a movie.
"Ash vs Evil Dead" airs Sundays at 9 p.m. on STARZ.
https://www.foxnews.com/entertainment/ash-vs-evil-dead-star-bruce-campbell-i-cant-get-far-enough-away-from-hollywood