Angry Farmer Orders Rihanna to Put Some Clothes On After Granting Her Permission to Use Grounds for Video Shoot
By ,
Published April 08, 2016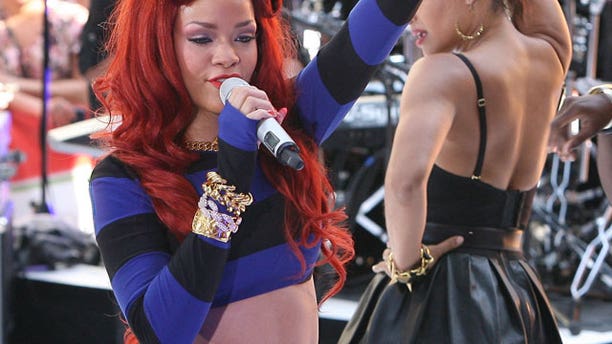 Sexy R&B star Rihanna angered a Northern Ireland farmer Monday when she stripped down on his lands for a racy video shoot.
Alan Graham, 61, who lent the pop star a corn field to shoot her latest video "We Found Love," said he found Rihanna's behavior "inappropriate" and drove over in his tractor to tell the scantily clad star to put some clothes on.
Graham says he enforced a dress code as he watched Rihanna shoot a video Monday in his wheat field in Bangor, east of Belfast, for her new single, "We Found Love." She's in Northern Ireland this week to perform three concerts.
Click here to see the topless photo from the U.K. Sun
The 23-year-old switched from a flannel checked shirt into a stars-and-stripes bikini, a red bra, a mesh black top, and finally went topless before Graham climbed off his tractor to protest.
Traffic came to a standstill near the field in Bangor, about 13 miles east of Belfast, on Monday, as fans tried to catch a glimpse of the "Rude Boy" singer, who stripped down to a red bikini and was also seen wearing an American flag bikini and unbuttoned jeans.
Graham, who admitted he was not "familiar" with Rihanna's work, said, "If someone wants to borrow my field and things become inappropriate, then I say, 'Enough is enough. You are not entitled to do that'."
HOT SHOTS: Click here for more Rihanna photos from X17 Online.
He added, "I requested that they stop filming and they did. I had a conversation with Rihanna and I hope she understands where I'm coming from. We shook hands."
The farmer, also a local politician for the Democratic Unionist Party, said he did not receive any payment for loaning his field and had earlier helped Rihanna's crew free some equipment that got stuck in the mud.
The incident even prompted a political debate in the Northern Ireland Assembly, with one politician asking the country's first minister Peter Robinson -- the leader of Graham's political party -- whether potential investors might be deterred after the pop star was kicked out of a field for nothing more than "wearing red, white and blue."
Rihanna is understood to have resumed filming at a secret location in Belfast, where she is performing at the weekend.
NewsCore and the Associated Press contributed to this report.
https://www.foxnews.com/entertainment/angry-farmer-orders-rihanna-to-put-some-clothes-on-after-granting-her-permission-to-use-grounds-for-video-shoot