'American Idol' at a crossroads: Next season to bring fresh judges, many changes
By Hollie McKay, ,
Published April 20, 2016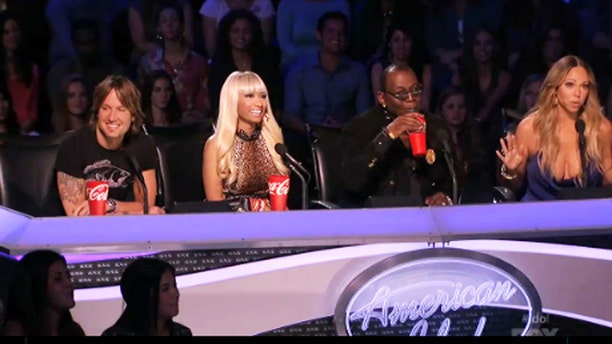 The 12th season of FOX's famed "American Idol" wrapped on Thursday night, and although the most recent "Idol" installment brought new judges, talented contestants and some twists, the next season of the show may see even more changes.
The reality singing competition has endured a perpetual ratings decline in recent years, hitting an all time low this season. So what's next for the once biggest show on television?
New judges
As first reported by TheWrap.com, the big-wigs behind "Idol" have decided to clear the slate and not bring back anyone from this year's panel – and it was confirmed that Randy Jackson, a veteran from day one, would not be returning.
"Everyone is getting fired," a source connected to the show told FOX411's Pop Tarts column. "Although Mariah [Carey] insists she quit, she was always in trouble for not being critical enough and being too boring…Keith [Urban] is just a bore and with Randy is what like, whatever. Time for new energy."
Nicki Minaj also won't be returning, our source said, and we're told that producer Nigel Lythgoe may be leaving the show as well. In addition, we're told the future or record executive and mentor on the show since 2011, Jimmy Iovine, too is murky.
And a fresh panel may be in order after Thursday's finale, which was the lowest-rated in "Idol" history. The showdown between Kree Harrison and eventual winner Candice Glover proved a big disappointment – averaging audience numbers of 14.3 million, significantly down from last season, which had 21 million viewers.
According to Nielsen ratings, this past season averaged around 13.3 million viewers. Compare that to season five when it peaked with 30.6 million average viewers, followed by 29.7 for season six. The most significant drop came in season nine with 22.5 million, and then season 11 with 17.4 million tuning in across the country.
So is hiring a whole new team of judging pros the right thing to do in the quest to get back on top?
"When dealing with this sort of political environment and ego that go hand in hand with a show like this, clearing the slate and starting fresh is the only rational option," Jed Smith, founder of Beta Fish Music, said.
Smith added a new panel of judges could "restore interest" in the competition series, something this year's panel of judges failed to do.
"This cast didn't work…What this panel didn't have going for it was chemistry. They didn't seem to like each other. All the feuding set the season off on a bad note and alienated the show's core fan base," explained Lyndsey Parker, Yahoo! Music Managing Editor.
Slimmer paychecks
Another change coming with the 13th season may come in the form of the paychecks being awarded to "Idol" judges.
Recent reports have indicated "no more big checks for divas" – ahem, Carey who was on $18 million, while Jennifer Lopez earned $15 million and Minaj pockets $12 million.
This could also suggest that next season's team of judges is less A-list, more industry. And according to our source, in spite of multiple reports to the contrary, Lopez isn't being targeted to return to the judges' seat.
The "Idol" dream team
So who could and should make up the "American Idol" dream team judging panel for season 13?
"Ben Folds (poach him from 'The Sing Off,' he is amazing and deserves to be on a bigger show), and Adam Lambert," Parker suggested. "And get an industry person – whether it is a journalist, A&R person, producer, manager etc. Someone who knows what they are talking about and isn't a celebrity just using the show to promote their other projects."
According to Smith, character is key.
"The panel should consist of people who'd seen a lot and where in the habit of asserting their tastes. A guy who has worn every hat, rejected the industry and still succeeded, like T-Bone Burnett, would be great," he enthused. "A master producer/songwriter with a golden ear, like Barry Gordy would be amazing and a major diva with an eye towards paradigm shift like Madonna, would round out an all-star panel."
Nir Seroussi, Managing Director of Sony Music Latin, advocated that "Latin artists, particularly artists with crossover appeal, would be a wise choice for 'American Idol.'"
"In my perfect scenario," he said. "I see a record exec, a Latin crossover artist and a pop artist. I believe judges should add to the show with their personality but not steal the show, or worse, become a sideshow. They should enhance and complement – not take the spotlight away from the contestants who are the artists on 'American Idol.'"
Another entertainment industry insider noted that it would be "genius" to bring back past winners or successful finalists to the judging fold – Carrie Underwood, Kelly Clarkson, and Jennifer Hudson.
Looking ahead
But we're told despite the many edits to the series, one thing that won't be changing for season 13 is the show's host.
"Ryan Seacrest is safe though," the insider said of the veteran host. "They love Ryan."
FOX declined to comment and reps for Nigel Lythgoe did not return FOX 411's request for comment.
https://www.foxnews.com/entertainment/american-idol-at-a-crossroads-next-season-to-bring-fresh-judges-many-changes