Amber Heard on 'Aquaman' character: 'She's not a damsel in distress'
Amber Heard dives into the superhero world as Mera in "Aquaman" who goes from sea to land to recruit Arthur Curry, played by Jason Momoa. Fox News spoke with Heard about playing the heroine — and not a damsel in distress.
The 32-year-old also spoke about the changes she sees in the comic book realm when it comes to roles for women and how she trained for the action sequence scenes.
Fox News: Tell us about your character Mera in "Aquaman."
Amber Heard: It really is about a partnership [between Mera and Aquaman]. She is a partner, she's not a damsel in distress, she's not needing to be rescued, she doesn't want to be rescued. She's a driving force of this story. She is what makes Arthur Curry, Aquaman. She is the one to push the narrative along, push him along and allow him to find that which he needs to find to become Aquaman.
And as this is his origin story, I was really thrilled and happy and honored to do this role because it represented a much more modern take on women...there's a dearth of representation of women especially in an empowered sense, especially in this particular world, in the comic book, fantasy world. And in the entertainment industry in general. I mean, I don't have to tell you that, and I think we are living in a time now more than ever where we are demanding that the change we realized, that we call it out, and we talk about this so that the conversations change so that the attitudes change, so the system changes. The system is what really needs to change. And I like playing interesting, strong, powerful characters. I like playing them because I like interesting people and powerful people. I like powerful people and more interesting people in general and I think so does an audience, male and female.
So to play a character who is her own superhero and has her own power and was not a damsel and broke the formulaic expectations that we normally see played out over and over again and repeated in this genre, ones that just perpetuate classic gender norms and stereotypes, is really thrilling.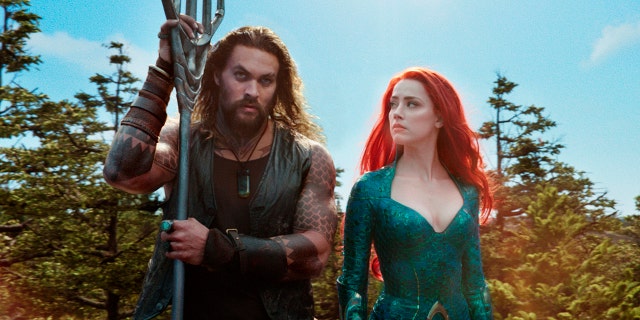 Fox News: Do you think the movie industry has turned a corner in the superhero world when it comes to roles for women?
Heard: I think this is the time where we need to be continuing the conversations and not letting this die because there's real momentum right now and there is a growing chorus that really grows every day. And I like that this movie does that in so many ways and does it in a fun way where you are also watching a fun, exciting superhero movie that really transports you and reminds you of what it's like to go to the theater when you were a kid.
Fox News: What was it like training and filming the action scenes?
Heard: There were so many firsts...it took a lot of training...we had so many strange experiences because of the nature of [the movie]. This is a fantasy and an adventure and we created all these worlds that you've never seen before, but to try to imbue that sense into ourselves while attached to wires and doing all these incredible things like flying through the air — it was just a surreal experience through-and-through.