Tony Stewart may enter 2019 Indy 500, but not as a 'sideshow' like Danica Patrick
By Gary Gastelu, ,
Published August 10, 2018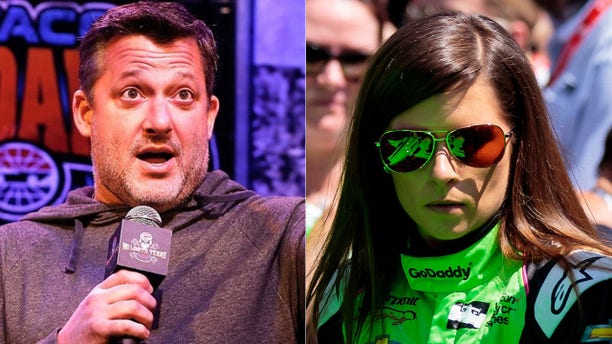 Tony Stewart wants to take another shot at winning the Indy 500 next year and said he won't be a "sideshow like Danica Patrick" if he does it.
Like his former teammate Patrick, Indiana native Stewart spent several years racing Indy cars before making the switch to the NASCAR Cup Series.
Stewart won the Indycar championship in 1997, the same year he posted a career-best fifth place finish in the Indy 500, and went on to win three NASCAR titles before retiring in 2016.
In 1999, Stewart became the first driver to pull off the "Memorial Day Double" by completing both the Indy 500 and NASCAR's Coca-Cola 600 on the same day. He did it again in 2001, which is the last time he drove in the Indy 500, placing sixth.
"If I go, I'm not going just to run it," he said. "I don't want to be a sideshow like Danica was at Indy this year," Stewart told reporters at the reveal of Ford's new Mustang Cup car on Thursday.
NASCAR CUP FORD MUSTANG READY TO RACE
Patrick crashed out of this year's Indy 500, which she said would be the last race of her career.
Stewart said he'd want to run at least one warm-up race before the Indy 500.
"It's an insult to the guys who do it every week to show up and think you're going to be as good as those guys are," Stewart said. "They're on their game. They know their cars. They know how they need their cars to feel in practice to be good in the race. It's foolish to think you can just show up and be competitive and have a shot to win."
As far as who he'd drive for, there's no deal yet in place, but Andretti Autosport is a likely possibility as the powerhouse team has the capability to add cars for marquee events. It also uses Honda engines, which wouldn't conflict with Stewart's Ford tie-up in NASCAR, where he co-owns the Stewart-Haas team, since the Japanese automaker doesn't compete in that series.
The Associated Press contributed to this report
https://www.foxnews.com/auto/tony-stewart-may-enter-2019-indy-500-but-not-as-a-sideshow-like-danica-patrick