Bentley Sets Speed Record of 205 mph...On Ice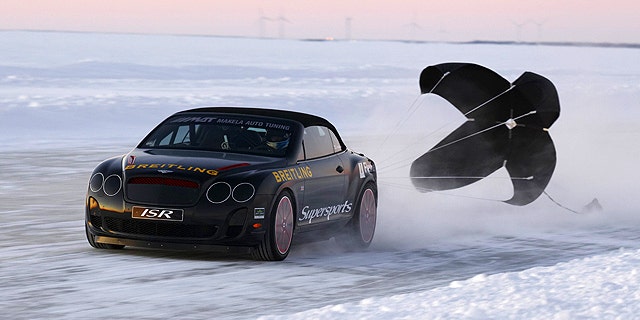 A sports car has set a world speed record by traveling 205.48 miles per hour…on ice.
The Bentley Continental Supersports was piloted by 51-year old Juha Kankkunen across the frozen surface of the Baltic Sea off the coast of Finland, which is home to four-time World Rally Champion. In doing so, he broke his own record of 199.83 miles per hour set at the same location in 2007 in a Bentley Continental GT.
The record-setting Supersports was powered by a 6.0-liter, 12-cylinder engine similar to the 621-horsepower version found in the $280,000 showroom version of the car and running on E85 ethanol-based fuel. The only major modifications made to the all-wheel-drive two-door for the run were the addition of a roll-cage, custom front and rear spoilers for increased aerodynamic stability and a parachute mounted at the rear to help bring the vehicle to a halt on the low-traction surface.
Kankkunen needed to drive the car over 3 miles just to break the 200 mph barrier, maintain the record speed through a timing zone and then stop within the confines of a 7.5 mile course that was plowed out of the snow-covered ice. Officials from the Guiness Book of Records were on hand to verify the feat, which had to be completed in both directions to count as a record.
Fox Car Report is on Twitter. Follow us @foxcarreport
Interestingly, given the location and temperatures as low as -30 degrees Celsius, the car used was a convertible, although the top was kept up during the run. A coupe version of the Continental Supersports is also available.
Bentley announced that it will celebrate the achievement by introducing a special edition of the Continental at the upcoming Geneva Auto Show on March 1st. The Volkswagen-owned company said that this "extreme" Bentley will be limited to 100 copies and be the most powerful model it has ever made.
The current Guiness top speed record for a production car is also held by the Volkswagen Group after a Bugatti Veyron Super Sport hit 268 miles per hour on a test track in Germany last year. Customer versions of that car sell for over $2 million.
Click here for more automotive news from Fox Car Report