10 millionth Ford Mustang revealed, looks like the first
By Gary Gastelu, ,
Published August 09, 2018
It's a car 54 years in the making.
The 10 millionth Ford Mustang rolled off the line at the automaker's Flat Rock Assembly Plant in Michigan on Wednesday, further cementing the model's place as the best-selling sports car of all time.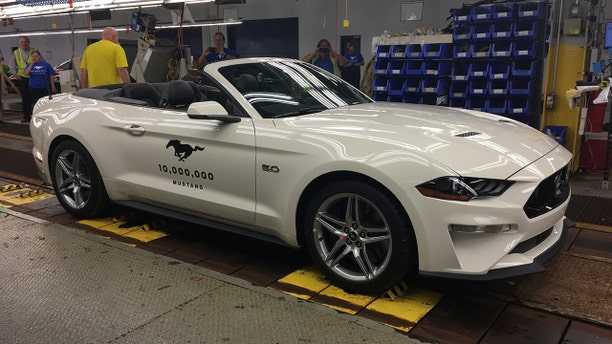 It is the sixth Ford vehicle to reach the milestone.
The 2019 GT convertible is painted Wimbledon White, just like the one Ford recognizes as the first production Mustang. That car, with a serial number ending in 001, was purchased in Canada in April 1964 by an airline pilot named Stanley Tucker, who gave it back to Ford in exchange for the 1 millionth Mustang in March 1966.
The millions that followed were manufactured at several locations over the years before production was consolidated at Flat Rock in 2004. Since then, over 1.6 million have been built there, including the 9 millionth car in 2008.
Sales slowed with the recession back then, but kicked into high gear when Ford expanded Mustang sales globally with the introduction of sixth generation car in 2015 and went on to sell nearly half a million by the middle of 2018.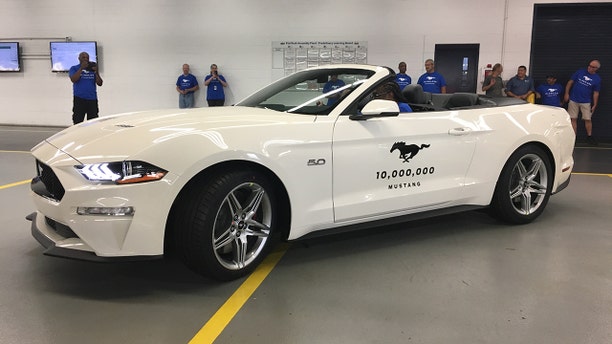 But don't go looking for the 10 millionth in showrooms. Ford will be putting it on promotional duty for a while, but its future is uncertain after that. It says it may hang onto it or put it in a museum, but it could end up on the auction block someday.
As far as the 11 millionth is concerned, it could end up being a very different car. In just a couple of years you'll be able to buy a hybrid Mustang that will be built at Flat Rock alongside an autonomous commercial vehicle and an all-electric SUV inspired by the Mustang, so anything is possible in the future.
One thing's for sure, even though Ford is getting rid of all of its other car models in favor of utilities and trucks, it has no plans to put its pony out to pasture.
https://www.foxnews.com/auto/10-millionth-ford-mustang-revealed-looks-like-the-first