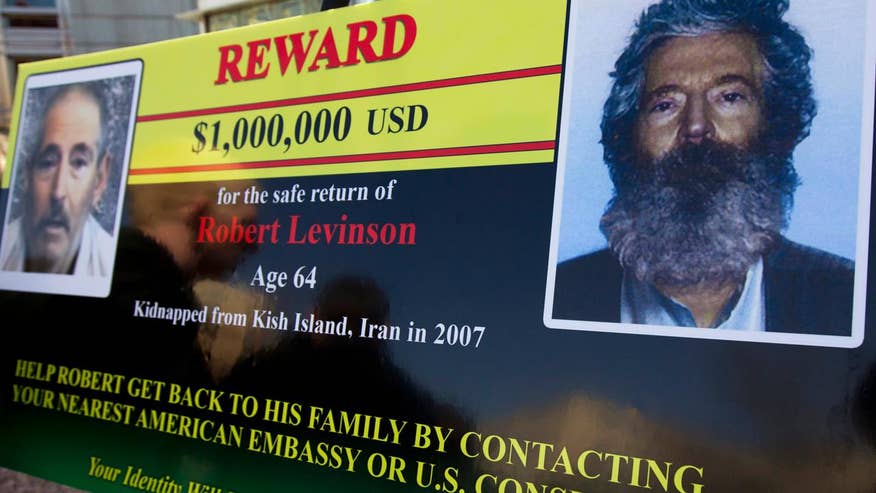 The family of a former FBI agent who vanished in Iran 10 years ago reportedly filed a lawsuit Tuesday against the country, alleging it used a campaign of deceit and lies to hide its role in his capture.
The lawsuit was filed in a Washington federal court on behalf of Robert Levinson, his wife and their children, The New York Times reported. The suit seeks unspecified damages from Iran for inflicting emotional trauma on the Levinson family.
Iranian leaders have repeatedly denied knowing anything about Levinson's fate, but U.S. officials have indicated for years they believe the former agent is alive.
The attorney for the Levinson family has called Iran's claims hollow, accusing the country of spreading disinformation about his whereabouts.
The lawsuit does not give any new details about Levinson's status, the paper reported. But the suit states that the FBI concluded the videotapes and photos released by Iran were part of an "attempt to create a false scenario that Robert Levinson was being held by some other country."
Levinson, 69, would be the longest-held hostage in American history.
Levinson retired from the FBI in 1998. He was working as a private investigator when he traveled to Kish Island, Iran, on March 8, 2007. He was on a 24-hour rogue CIA assignment and last seen leaving the Hotel Miriam on the island and getting into a taxi to go to the airport.
Iranian state-run television reported at the time that Levinson was in the hands of Iranian security forces -- but no group officially claimed responsibility for taking him.
In October 2009, the FBI told Fox News it had received unconfirmed reports of sightings of Levinson in the Islamic Republic. Two years later, in March 2011, the U.S. government said it "received indications" that Levinson was being held somewhere in southwest Asia.
Iran had also told the Obama administration in 2016 that an American's remains were buried in Pakistan. But Pakistan officials searched the site in question and no remains were found
President Trump pledged to make Levinson's case a priority during his presidential campaign. White House Press Secretary Sean Spicer said earlier this month that administration "remains unwavering in our commitment to locate Mr. Levinson and bring him home."
"We want him back, and we will spare no effort to achieve that goal," Spicer said.