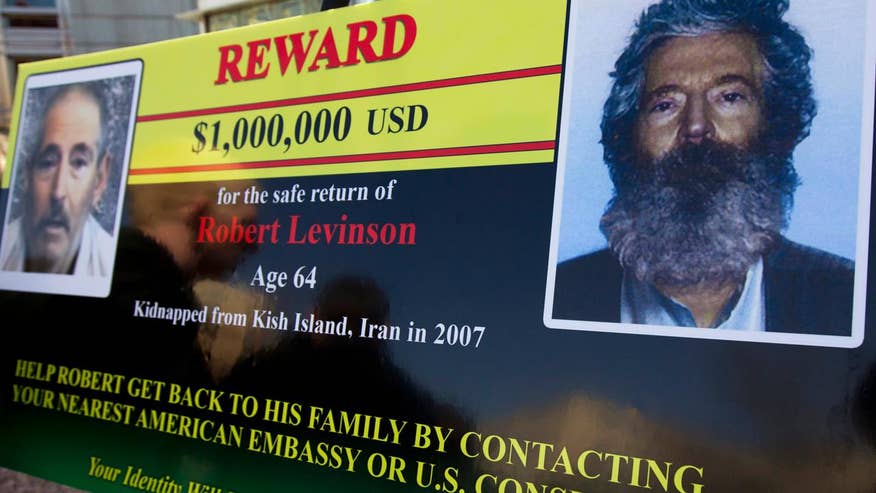 The son of a former FBI agent who vanished 10 years ago in Iran said Thursday he's hopeful President Trump will make good on his promise to bring his father home.
"He can do something that two U.S. presidents haven't done," Daniel Levinson told Fox News.
"I do not think there has been enough pressure on the Iranians over the years," Levinson said. "Trump is a deal-maker who has no issue using tough language with Iran."
"I think he's well-suited to bring my dad home," he said.
The younger Levinson spoke on the 10-year anniversary of Robert "Bob" Levinson's disappearance from Iran's Kish Island, where he had traveled on an unauthorized mission to recruit an intelligence source for the C.I.A.
Iranian leaders have repeatedly denied knowing anything about Levinson's fate, but U.S. officials have indicated for years they believe the former agent is alive.
The White House said Thursday it will "spare no effort" in its quest for answers about Levinson, 68, whose whereabouts remain a mystery.
Trump had pledged to make Levinson's case a priority during his presidential campaign. White House Press Secretary Sean Spicer said Thursday the administration "remains unwavering in our commitment to locate Mr. Levinson and bring him home."
"We want him back, and we will spare no effort to achieve that goal," Spicer said.
The FBI also reaffirmed its commitment to find Levinson -- a 20-year veteran of the agency -- and said it has worked tirelessly to get answers in the case, pursuing every lead collected through interviews, intelligence reporting and contact with foreign governments.
"Bob went missing in Iran," FBI Director James Comey said in a statement.
"Ten years is an inhumane amount of time to ask a family to wait for word of their loved one," he said. "Our ability to reunite Bob with his family is dependent on this shared commitment and we continue to call on the Iranian government to provide assistance."
In March 2015, the FBI increased its reward to $5 million for information that could lead to Levinson's safe return.
Levinson, if alive, is the longest-held hostage in American history.
Levinson retired from the FBI in 1998. He was working as a private investigator when he traveled to Kish Island, Iran, on March 8, 2007 on a 24-hour rogue assignment. He was last seen leaving the Hotel Miriam on the island and getting into a taxi to go to the airport.
Iranian state-run television reported at the time that Levinson was in the hands of Iranian security forces -- but no group officially claimed responsibility for taking him.
In October 2009, the FBI told Fox News it had received unconfirmed reports of sightings of Levinson in the Islamic Republic. Two years later, in March 2011, the U.S. government said it "received indications" that Levinson was being held somewhere in southwest Asia.
Levinson's wife criticized the Obama administration last year when she learned, through media reports, of a prisoner exchange with Iran that did not include her husband. At the time, Levinson's son, Dan, said it felt like "once again, he's been left behind."
Following the release of five American prisoners, President Obama said the U.S. would continue working to find Levinson. When asked by reporters whether Levinson was still alive, then-Secretary of State John Kerry said, "We have no idea." Kerry also said Tehran had pledged to assist the U.S. in its quest for answers.
Shortly thereafter, the Iranian government told the Obama administration it had intelligence that an American's remains had been buried in western Pakistan, near the country's border with Afghanistan and Iran, according to Levinson's son. But when Pakistan officials searched the site in question, no remains were found.
"Nobody believed that this was true," Levinson told Fox News.
"We knew it was a diversionary tactic meant to distract from getting anything resolved," he said.
"The facts show he was detained on Kish Island," Levinson said. "If he was moved from that island, it was the Iranian government's responsibility. They did that."
The Levinson family, from Coral Springs, Fla., insists he is alive and that Iranian officials know where he is. They last received some visual record of him in video and photos that were sent about five years ago.
"When is enough enough? It has been 10 years since Robert Levinson, our amazing husband, father and grandfather, was arrested on Kish Island, Iran, and imprisoned," the family said in a statement Thursday.
"For 10 years the government of Iran has been allowed to dodge and weave every time it was asked to come clean about what happened to Bob and send him home. Where is the outrage of this treatment of an American citizen?" they said.
Addressing Levinson directly, the family said: Stay strong.
"We know you are alive and trying to come home to us ... We will never, never, ever give up looking for you."
Cristina Corbin is a Fox News reporter based in New York. Follow her on Twitter @CristinaCorbin.