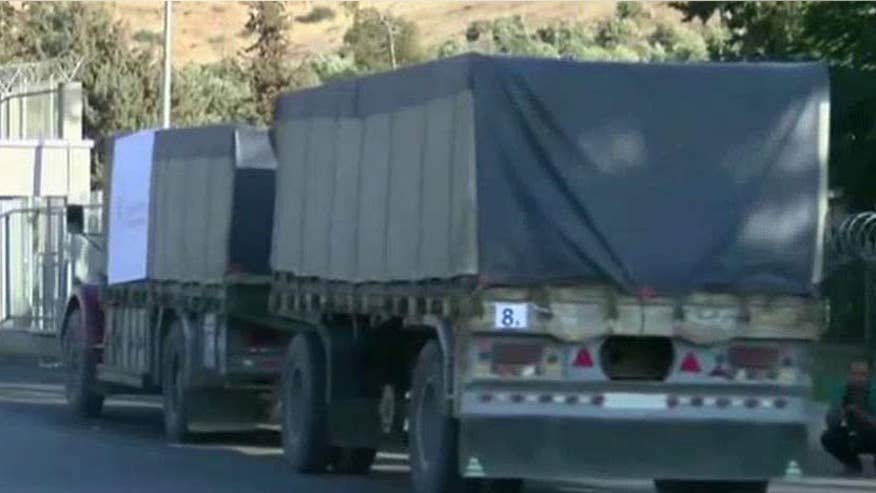 Russia was responsible for bombing a United Nations convoy outside Aleppo, Syria Monday killing at least 12 aid workers, a U.S. official told Fox News on Tuesday.
The U.N. aid agency is suspending all convoys in Syria -- putting an already fragile cease-fire agreement between the U.S. and Russia into further doubt.
Two Russian Su-24 attack aircraft were responsible for attacking the convoy, according to a separate U.S. official.
The bombing of the aid convoy has put the week-long ceasefire agreement "in jeopardy," Col. John Thomas, spokesman for U.S. Central Command, told reporters Monday, adding that there has been an "uptick" in violence in the past few days. Still, on Tuesday, Secretary of State John Kerry said the cease-fire "is not dead."
Late Monday, two senior administration officials blamed Russia for the attack on the air convoy. Asked about the chances the week-long cease-fire was over, one official said, "We don't know if it can be salvaged."
Asked about the potential for the Russians and U.S. to team up in a joint operations center, Thomas said he was "not anticipating great progress any time soon." Following the bombing of the aid convoy, Thomas said the plan to jet up a joint operations center with the Russians was "on hold."
Also, the United States military is appointing a brigadier general to conduct a full investigation into the bombing of Syrian forces over the weekend in eastern Syria, a spokesman for U.S. Central Command, responsible for U.S. forces in the Middle East, told reporters.
"We have never struck regime targets in this conflict," prior to Saturday, Thomas said.
The Russian military accused the U.S.-led coalition of killing up to 62 Syrian soldiers. The decision to bomb the Syrian force was "not made on the spur of the moment," according to Thomas, who said the coalition was tracking the target for two full days thinking it was made up of Islamic State forces.
The U.S.-led coalition has routinely bombed ISIS targets in eastern Syria in the two-year conflict.
Thomas said the investigation would be made public as soon as it is completed.
Speaking about the US-led airstrike that struck Syrian forces Saturday, Thomas said the Russians called the U.S. military at the air operations center in Qatar not once, but twice. He described the first call as "cryptic," leading to a delay in the message getting through.
But when the U.S. military learned it was not ISIS but Syrian regime forces being struck, they immediately called off the strike, but not after more than 30 minutes had passed and weapons had already been dropped on the Syrian force.
Lucas Tomlinson is the Pentagon and State Department producer for Fox News Channel. You can follow him on Twitter: @LucasFoxNews