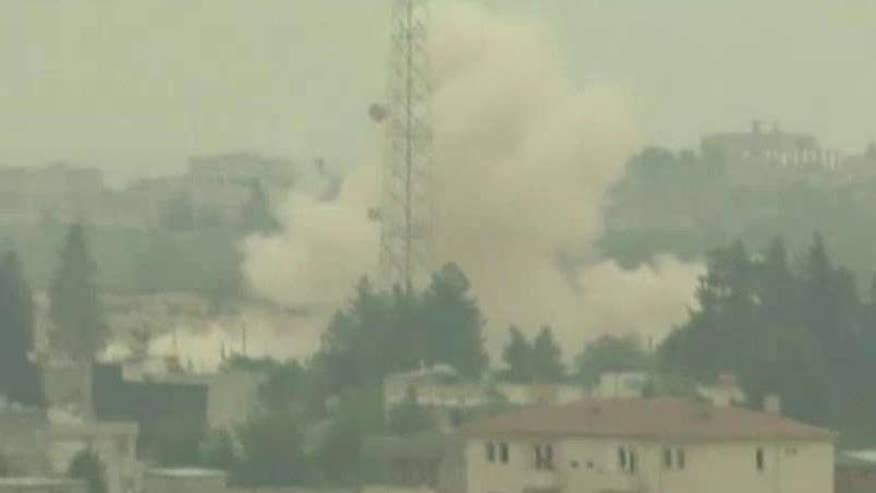 Turkey's U.S.-backed push into northern Syria Wednesday was aimed at ISIS, but also sent Ankara's nemesis - and American ally the Kurds - retreating east of the Euphrates, making good on a vow from strongman Recep Tayyip Erdogan.
Amid a fence-mending visit from Vice President Biden, Erdogan's tough rhetoric against the Kurds, a reliable and effective American partner in the fight against ISIS, appeared to force the U.S. to choose sides in the separate, and longstanding fead between its allies.

Erdogan had demanded that the Kurds, linked to a political group accused of committing acts of terrorism inside Turkey, move back across the river and away from his nation's western border with Syria. The call came despite Kurdish forces' effectiveness in fighting ISIS on the western side of the river.
Biden, in Turkey Wednesday to smooth relations as Ankara demands extradition of a U.S.-based cleric it accuses of plotting last month's failed coup, echoed Erdogan's call on the Kurds to leave Arab lands in Syria and return east of the Euphrates to traditional Kurdish territory. The vice president even threatening to cut off supplies to the Kurds if they didn't fall back.
Some of the Syrian Democratic Forces remained in the region to remove roadside bombs, U.S. officials added.
The United States is supporting the Turkish military operation with airstrikes and conducted at least eight against ISIS targets on Wednesday, according to a senior defense official.
But the U.S. is also supporting Kurdish fighters in Syria, including a militia known as the YPG, seen as the best ground force against ISIS in Syria. Some U.S. special operations forces have embedded with the YPG, part of the 300 US troops sent to Syria earlier this year.
Turkey considers the YPG a terrorist organization, the Syrian affiliate of a Kurdish separatist group in Turkey, the PKK. The State Department lists the PKK as a foreign terrorist organization. The PKK has fought a decades long insurgency against Turkey killing tens of thousands of civilians. Attacks by the PKK have increased in recent months. Turkish jets have bombed PKK positions in response, including some at training camps in northern Iraq.
The Syrian Democratic Forces have moved east across the Euphrates to prepare for the eventual liberation of Raqqa, Syria #defeatdaesh

— OIR Spokesperson (@OIRSpox) August 25, 2016
The Obama administration considers the YPG and PKK separate groups.
Turkey had been calling on the Kurds to move east of the Euphrates River since a successful U.S.-backed operation to route ISIS in Manbij, a logistics hub for the terrorist group 20 miles from Syria's border with Turkey located on the western side of the river.
Wednesday, Turkey's president said his country's military operation into northern Syria would target both ISIS and Kurdish fighters of the YPG, calling both groups terrorist organizations.
Syrian Democratic Forces, as the U.S.-backed largely Kurdish fighting force is called, also includes some Arab fighters as well as the YPG.
Late last week, Syrian jets from President Bashar al-Assad's Air Force bombed Kurdish fighters in northern Syria with US special operations forces nearby, according to a US defense official, in another sign of the increasingly complex battlefield in Syria. US jets were sent to the area in response.
Turkey and Syria are long-time enemies.
But in recent days, Turkey has backed off calls for Assad to step down immediately, instead saying he could be part of a transitional government before leaving in the future.
Erdogan met with Russian President Putin earlier this month in Moscow, in a sign of increasing ties between the two counties. It was the first visit since Turkey shot down a Russian warplane in November.
Russia has supported the Syrian government in the past year by sending dozens of jets and attack helicopters to Syria to carry out airstrikes against rebel forces.
Turkey has long supported Syrian rebels fighting President Assad's regime forces during the five-year civil war.
The Obama administration has repeatedly called for Turkey to take more steps to seal its border with Syria to ISIS fighters.
Turkey's military operation into northern Syria Wednesday was seen as a welcomed step by senior defense officials in Washington.
Lucas Tomlinson is the Pentagon and State Department producer for Fox News Channel. You can follow him on Twitter: @LucasFoxNews