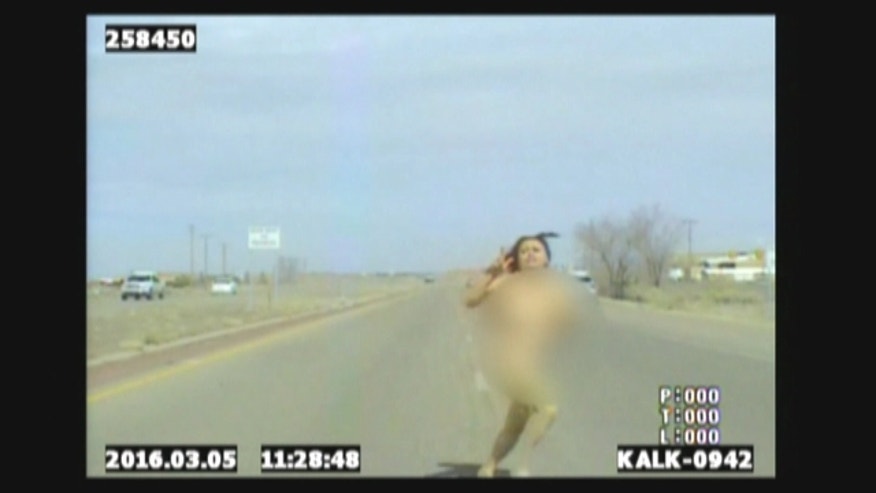 Police deputies in Santa Fe, New Mexico got an unvarnished view of a lady suspect Saturday afternoon, following a high-speed chase that ended in a violent crash.
With deputies in hot pursuit, 51-year-old Barbara Arellano was reportedly speeding along at 100 miles per hour in her silver Toyota Rav4, while throwing things out of her car windows.
Arellano did not pull over, but instead turned on emergency flashers, ran a red light, nearly ran another driver off the road, and finally crashed into a truck.
Upon impact, Arellano got out of her car and gave witnesses a show they might not soon forget. In only her birthday suit, the woman ran screaming and pointing at the officers until they were able to tackle and handcuff her while she screamed "Jehovah" several times — all of which was captured on a dash camera.
A good Samaritan offered the woman a blue tarp to cover her.
When officials later asked Arellano why she was naked at the time, she told them, "Because I got hot."
Arellano admitted that she suffers from schizophrenia and bi-polar disorder, and had gone on a binge.
Deputies later reported that Arrellano used heroin, ingested pill, and drank whisky before driving.
According to KRQU News 13, she was charged with DWI, reckless driving, fleeing from police and battery on a peace officer. She also has an outstanding warrant for child abuse for a case in Taos, New Mexico.
Like us on Facebook
Follow us on Twitter & Instagram