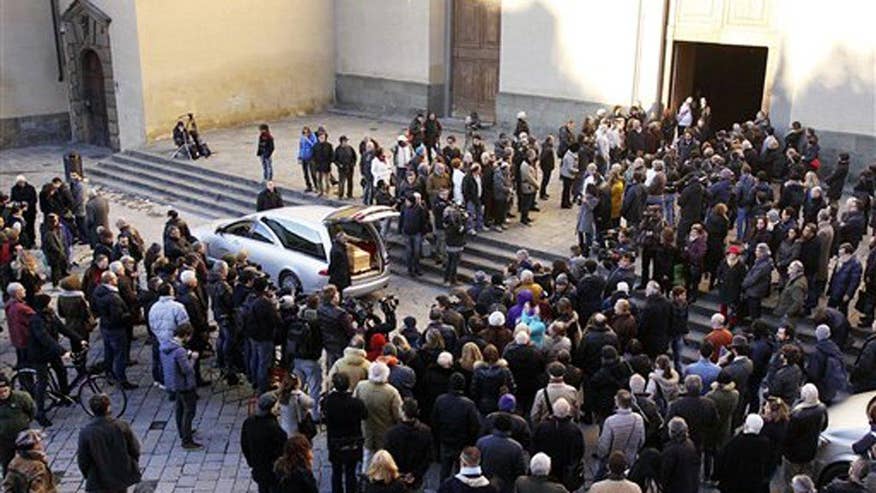 Friends and family of an American woman killed in her Florence apartment gathered Friday for a funeral and burial in her adopted Tuscan homeland as authorities prepared to present their case to a judge against the prime suspect in her slaying.
Friends carrying red, white and pink roses joined relatives of Ashley Olsen, 35, and her beloved beagle Scout for the funeral inside the Santo Spirito basilica. Olsen's boyfriend, Federico Fiorentini, entered the basilica holding a bouquet of flowers and held Scout on his lap during the service.
Fiorentini, a local artist, discovered Olsen's body Jan. 9 after he asked her landlord to let him into the apartment because he hadn't heard from her in several days. Prosecutors say she was killed a day earlier by a Senegalese man she met at a disco, after a night of cocaine-use and sex followed by a fight.
The suspect, Cheik Tidiane Diaw, acknowledged to investigators that he had pushed Olsen twice to the ground after she pushed him in an attempt to get him to leave her apartment. But he said he never strangled her and left her alive on her bed, according to his lawyer, Antonio Voce.
In his funeral homily, Monsignor Giovanni Scanavino recalled Olsen's youthful smile and called her death an "irreparable destruction." But he also condemned her community for what he said was its failure to accompany her in friendship and help her resist the "deadly tangle of alcohol and drugs."
"We have to be more courageous, have bigger dreams to love one another more and support one another in tough times," he said in Italian.
Olsen, of Summer Haven, Florida, was being buried in a Florentine cemetery. Family attorney Maria Gallo said because of the ongoing murder investigation, Olsen's remains could neither be cremated nor returned to the United States for burial.
Prosecutors on Thursday arrested Diaw, 27, after DNA analysis on a condom and cigarette butt placed him at Olsen's apartment. He also had her cell phone. Witnesses said the two had met earlier in the evening at a Florence disco and had gone to her apartment together.
A judge on Saturday is expected to weigh the prosecutors' case and decide whether to confirm his arrest. While prosecutors have accused him of aggravated homicide, he has not yet been charged.
In a statement issued Friday, Olsen's parents, Paula and Walter Olsen, thanked Italian authorities "for their swift apprehension of the perpetrator."
"Our deepest affections go to Ashley's many friends and to the community of San Frediano that she dearly loved," they added, referring to the Florence neighborhood where Olsen lived.
Olsen's death has unnerved Florence's tight-knit expat community as well as the locals who live near Santo Spirito, a favorite hang-out spot for Olsen, her friends and Scout.
"She was a presence in Santo Spirito, more or less everyone knew her," said resident Andrea Alvini, at the newspaper stand on the piazza corner. "I am honestly very sorry."