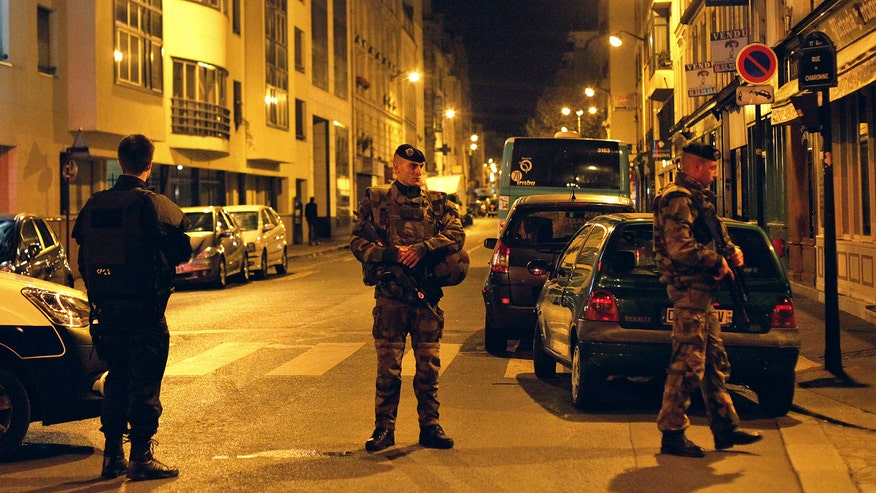 A French citizen believed to be directly involved in Friday's Islamic terror attack in Paris that killed 129 and injured 352 was on the run Sunday afternoon and was being hunted by authorities, French security officials said.
French police issued a wanted notice with a photo of Salah Abdeslam, a 26-year-old man born in Brussels. The notice, released Sunday, warns people who see him that he is dangerous, saying "do not intervene yourself."
The man, one of three brothers believed involved in the killings in central Paris, rented the black Volkswagen Polo used by a group of hostage-takers that left at least 89 people dead inside the Bataclan concert hall, one official said. One of the suspect's brothers has been arrested in Belgium and another brother died in the attack, the official said.
Three of the seven Islamist suicide bombers have already been identified as French citizens, as was at least one of seven other people arrested in neighboring Belgium in connection to the deadly attacks. One of the suicide bombers was identified as a 20-year-old man and another was identified as a 31-year-old man. Both had been living in Belgium prior to the attacks.
One suicide attacker, who was identified from a skin sample, had been living in a Paris suburb, French police said Sunday. A Belgian official said two of the seven suicide bombers were French men living in Brussels, and one of the attackers was living in the Molenbeek neighborhood, which is considered a focal point for religious extremism and fighters going to Syria. Among the seven people arrested was another French citizen living in the Belgian capital.
The new information highlighted growing fears of possible homegrown terrorism in France, a country that has exported more jihadis than any other in Europe.
Ismael Omar Mostefai, a 29-year-old French citizen who had been flagged for ties to Islamic radicalism, was identified Sunday as one of the terrorists by a French judicial official who spoke to the Associated Press on condition of anonymity because the investigation is ongoing.
Mostefai's ID comes as Balkan authorities work to track the travels of a man whose Syrian passport was found next to a dead suicide bomber at France's national stadium on Friday night. It is still not clear if that Syrian passport is authentic, or if it belonged to the dead bomber. European officials say there is a brisk trade in fake Syrian passports to help people obtain refugee status in the European Union.
Serbian police said Sunday the owner of the passport, identified only as A.A., formally requested asylum in Serbia. Prosecutor Francois Molins told Sky News the passport was found at the Stade de France bombing site and belonged to a Syrian citizen born in 1990.
Officials said the passport holder, who set out from the Turkish coast, entered Greece on Oct. 3 through Leros, one of the eastern Aegean islands that tens of thousand of people fleeing war and poverty have been using as a gateway into the 28-nation EU. The deputy interior minister in charge of migrant policy, Yiannis Mouzalas, said the man entered and registered in Leros on Oct. 3, stayed there for five days and then arrived in Athens on Oct. 8. From then on, authorities didn't track him.
The passport was also registered in October in Serbia and Croatia, also countries on the corridor that crosses the Balkans and is known for lax controls and ease in obtaining transit documents. The owner was allowed to proceed because he passed what is essentially the only test in place -- he had no international arrest warrant against him, police in those states said Sunday.
It was not clear whether the passport was real or fake, or whether it belonged to the suicide bomber. But trafficking in fake Syrian passports has increased as hundreds of thousands of people try to get refugee status, the chief of the EU border agency Frontex has said. Mouzalas added that the man was detected in Croatia, but didn't provide further details.
The FBI was sending to Paris a team of agents that specialize in recovering information from electronic devices, the New York Times reported. The FBI is reportedly anticipating a bevy of information coming from French officials in the days ahead and wants to have sufficient manpower to handle and interpret it.
While investigators work to figure out how the attack was planned and how many people connected with it are still at large, the so-called "City of Light" has gone dark as top Paris tourist attractions such as the Eiffel Tower and the Louvre art museum remain closed in the wake of the attacks perpetrated by Mostefai and his terrorist cohorts. The Islamist attackers wielded AK-47s and wore suicide belts while carrying out a series of coordinated attacks at six sites around Paris on Friday night.
Mostefai, identified by fingerprints taken from a finger found in the Paris carnage, was one of the terrorists inside the Bataclan concert hall, where at least 89 people were murdered during a concert by the American band Eagles of Death Metal, Sky News reported. He was known to the French Secret Service for his radicalism, Fox News has confirmed.
Little is known about Mostefai's background, but French investigators have learned he grew up in a tough French housing project and turned to radicalism five years ago.
The mayor of the French city of Chartres, Jean-Pierre Gorges, identified Mostefai as a resident in a Facebook post, and Molins told Sky News that Mostefai had a criminal record, but didn't spend time in jail.
"In 2010, he was blacklisted by the police due to extreme behaviors, but never been classified into any illegal extremist groups," Molins said.
"In 2010, he was blacklisted by the police due to extreme behaviors . . ."

- Prosecutor Francois Molins
An official said Mostefai's father, a brother and other family members have been detained and are being questioned, the AP reported.
ISIS claimed responsibility for the apparent meticulously planned attacks and has warned that France would remain at the "top of the list of targets" due to its airstrikes on the militant group in Syria and Iraq.
French President Francois Hollande called the attacks an "act of war" in a nationally televised address Saturday. Hollande vowed France "will be merciless toward the barbarians of Islamic State group."
ISIS, in an online statement, described Paris as "the carrier of the banner of the Cross in Europe" and described the attackers as "eight brothers wrapped in explosive belts and armed with machine rifles."
French police said Saturday they believed all of the attackers were dead, but were still searching for possible accomplices. The French prosecutor's office said seven of the eight assailants died in suicide bombings.
Fox News' Greg Palkot and The Associated Press contributed to this report.