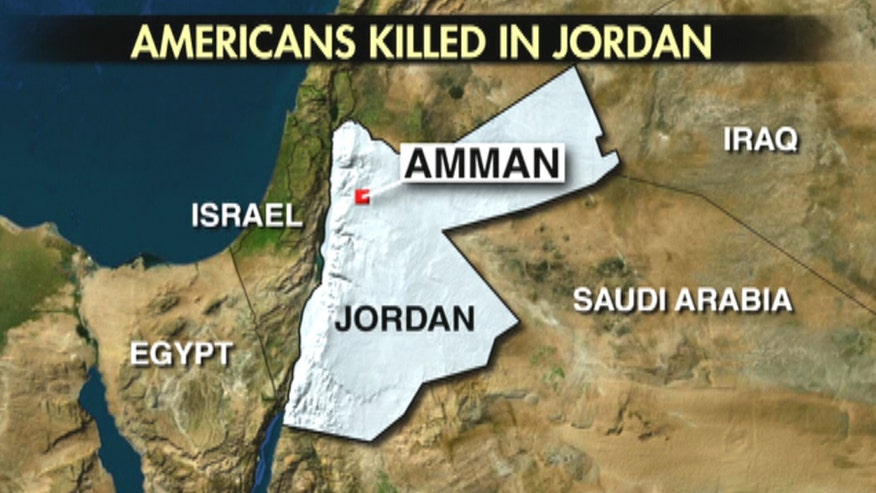 The shooting that killed five people, including two Americans, at a police training center in Jordan Monday was met with some cheers on social media.
Jihadis called the attacker a martyr, according to the Middle East Media Research Institute. They reportedly urged so-called "lone-wolves" to carry out similar attacks against Americans around the world.
The gunman was shot dead after killing three foreign police instructors, including the two Americans, as well as two Jordanian translators.
One Twitter user wrote, "I went to sleep hearing the beautiful news [about the attack], and woke up to find it even more beautiful," according to MEMRI.
The motive for the attack, which occurred 10 years to the day after a string of deadly hotel bombings in Amman, was still unclear. Jordanian government spokesman Mohammed Momani says an investigation is ongoing.
Images that circulated on social media show the aftermath of the shooting in a dining hall, Momani told The Associated Press Wednesday. The photos showed three large pools of blood on the ground and two tables, one with plates of food.
Jordan's government believes the attack "will have no impact on our security relations with our friends and allies," Momani added.
The U.S. State Department has said the two Americans killed in the attack worked for DynCorp International, a major military contractor, in a program funded by the State Department's Bureau of Diplomatic Security and Bureau of International Narcotics and Law Enforcement. The two wounded Americans are also civilians, the State Department said.
A former parliament member, Suleiman Saed, has said security forces told him a relative, 29-year-old police Cpt. Anwar Abu Zaid, was the attacker. Abu Zaid's family has said he was not an extremist.
Fox News' Catherine Herridge and The Associated Press contributed to this report.