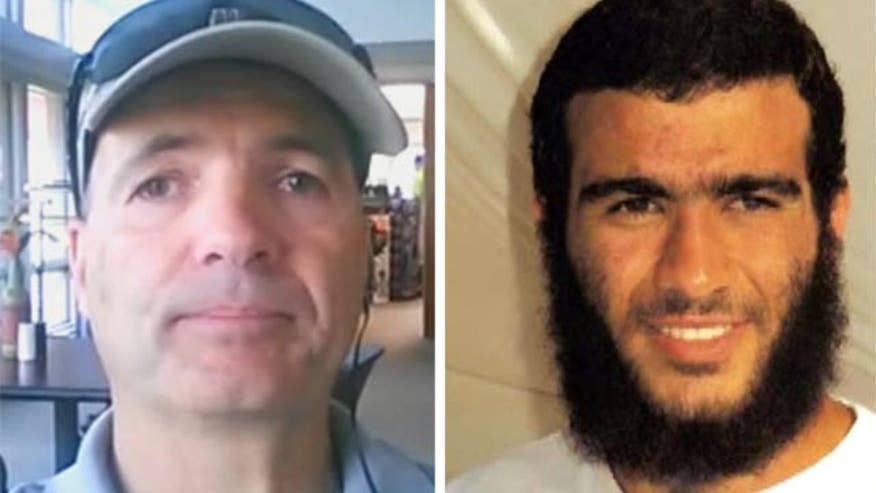 Omar Khadr's smile hasn't changed.
The cheerful face staring at readers from the cover of November's Maclean's magazine instantly recalls the joyous grin illuminated in green night vision videos of Khadr taken during 2002, when he was planting roadside bombs to be used against U.S. troops in Afghanistan.
"It's a disgrace that he is on the cover of a mainstream news magazine, being portrayed as a victim, and in the company of two real victims, including a victim of Islamic terrorism," Ezra Levant told FoxNews.com. Levant is the author of "The Enemy Within: Terror, Lies and the Whitewashing of Omar Khadr."
"Khadr's transformation from a racist, sexist, Jew-hating terrorist, into a celebrity and folk hero is the result of nearly 10 years of combined propaganda by leftist journalists and lawyers – with Khadr as the willing participant," Levant said. "They have managed to transform a pathological murderer into a 'victim,' providing Al Qaeda with a great PR victory."
Khadr, 28, is described as a victim of "searing personal tragedy" on the front of Maclean's, a weekly Canadian news magazine with a purported readership of nearly 2.5 million. In the cover shot he stands behind two seated women: one a sexual assault victim who was left for dead and one who was kidnapped by Somali criminals.
"Omar Khadr is still an Al Qaeda asset. I doubt he will commit any more murders, because he is much more valuable to them as a symbol"

- Ezra Levant
That Khadr is the confessed murderer of a U.S. soldier, who lived in Osama Bin Laden's Afghan compound and served as an Al Qaeda translator is mentioned nowhere on the magazine cover, nor in promotional materials.
Khadr admitted to a military commission in 2010 that he tossed the grenade that mortally wounded army medic Sgt. Christopher Speer in 2002. Speer sustained severe head wounds from the explosion and died 12 days later, leaving behind a wife and two children. Khadr's lawyers have said he only confessed in order to cut a plea deal that ultimately got him out of Guantanamo. But Khadr has since admitted to the attack in interviews with the Canadian press.
"I start hearing Americans and they were screaming and shouting and stuff," Khadr said in a 2015 documentary "Out of the Shadows." "I got scared. I started thinking 'What should I do?' I didn't know what to do. So I thought, 'I'm just going to throw this grenade and maybe scare them away.'"
Khadr, however, does hedge his account.
"Nobody claims to have seen me throw the grenade and [a] solider has testified that I was under the debris and it couldn't have been me," he said. "So I always hold to the hope that maybe my memories were not true."
Then, he flashes the same easy smile seen in the night vision footage and on the cover of Maclean's.
"On one side I killed another person, on the other side I didn't," Khadr said. "So it does make a huge difference."
Khadr's fortunes have greatly improved since gaining his freedom. He's received generally favorable coverage in the Canadian press. A judge who recently allowed him to remove his electronic monitoring bracelet in order to fly to Toronto to visit his grandparents called the conditions placed upon Khadr "unusually restrictive," according to CBCNews. Many stories don't even note that he killed a soldier, instead referring to his past offenses as "war crimes."
"Omar Khadr is still an Al Qaeda asset," Levant said. "I doubt he will commit any more murders, because he is much more valuable to them as a symbol — a symbol of Al Qaeda's moral righteousness; a symbol that you can be a terrorist, be caught and convicted but still be back on the street in a few years. He is being 'normalized.'"