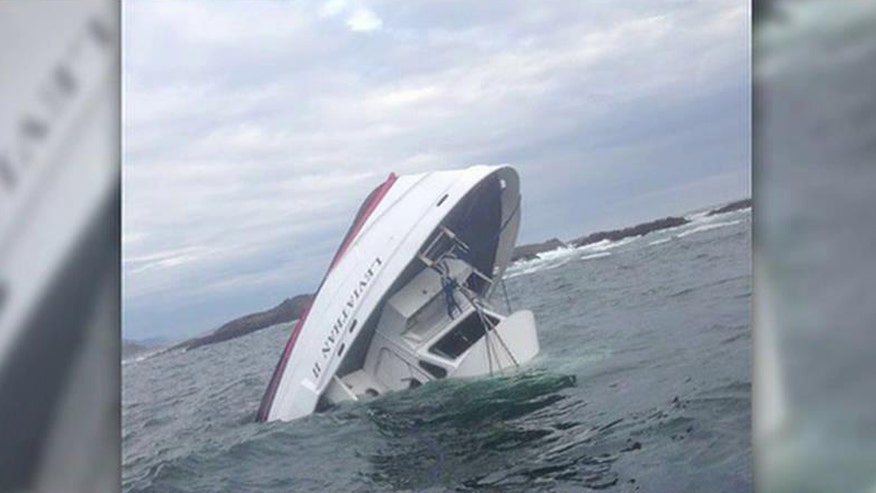 One person is still missing Monday morning after a whale watching vessel capsized for an unknown reason off the west coast of Canada on Sunday killing five people, authorities said.
Of the 27 passengers on board, 21 were rescued, Lt. Commander Desmond James of the Joint Rescue Coordination Centre (JRCC) said late Sunday. James said the Royal Canadian Mounted Police would take over the search for the missing person.
The five dead were British nationals, according to Foreign Secretary Philip Hammond. Hammond expressed "deep sadness" in a statement and said his thoughts are "with the family and friends of all those affected by this terrible accident."
Earlier Sunday, the JRCC, which is staffed by Canadian military and Coast Guard personnel, confirmed that the vessel made a mayday call shortly before 4 p.m. PDT Sunday near Tofino, British Columbia.
The partially submerged boat was eventually located eight nautical miles west of Tofino, a town of about 1,800 people located 175 miles west of Vancouver.
Canadian Prime Minister-designate Justin Trudeau thanked all those who participated in the rescue effort and offered his condolences to the victims and their families.
"I know firsthand of this coastal area's natural beauty and the many people who visit here from all around the world," said Trudeau, who won Canada's national elections last week. "My thoughts and prayers are with the passengers, the crew, and their families at this most difficult time. We will continue to offer them support in the days ahead."
Tofino's mayor described the mood in the town as tense but commended residents for their part in the rescue effort.
"Everybody's heart is just breaking for what's going on here and wanting to be as helpful as possible," Josie Osborne told the Associated Press during a telephone interview late Sunday.
Valerie Wilson, a spokeswoman for the Vancouver Island Health Authority, said 18 people were taken to Tofino General Hospital and were listed in stable condition.
Of those 18, she said, three were transferred to other hospitals. Some of the 15 who remained in Tofino have already been discharged, she said.
"There may be other discharges through the evening," Wilson said.
Boats from the nearby Ahoushat First Nation arrived first on the scene, aboriginal Councilor Tom Campbell said. He was on the waterfront and watched as rescue personnel brought several survivors ashore.
"Their looks tell the whole story," he told AP by phone from Tofino. "You can't describe looks on people that are lost. They look totally lost -- shocked and lost."
Campbell said his cousin pulled at least eight people from the water into a rescue boat.
John Forde, who runs The Whale Centre, another whale watching operation, responded to the call for help.
"It's a pretty sad situation when you're doing a grid pattern to an area hoping to see something," he said.
The ship that went down was the 20-meter Leviathan II, operated by Jamie's Whaling Station, Forde said. He said he had no idea how it could've sunk.
"Over the course of a season and years we take out thousands and thousands of people on these trips in conditions similar today," Forde said. "I have no idea what the issue was or what actually happened."
Forde said Jamie's Whaling Station was one of the first of its kind off Vancouver Island and had been around for many years.
It wasn't the first fatality on the whale watching company's record. In 1998 one of its vessels capsized during an excursion, sending all four people on board into the water. The operator and a passenger died.
Canada's Transportation Safety Board confirmed it was investigating Sunday's incident.
Tofino fishing guide Lance Desilets said at least 12 rescue boats were already out on the water when he arrived on the scene.
"I saw a lot of personal belongings, a long diesel slick and the top 10 feet of the Leviathan II sticking out of the water," Desilets said. "It's a sad day for our community and the search and rescue people are doing the best that they can."
Joe Martin, a member of the Tal-o-qui-aht tribe, was near the dock when rescue boats went out.
The ship was on the far side of Vargas Island in Clayoquot Sound, an area that Martin said can get really rough, but was not on Sunday.
"It wasn't even blowing hard," he said. "This is the largest boat in Tofino and I was really surprised that it went down."
The Associated Press contributed to this report.