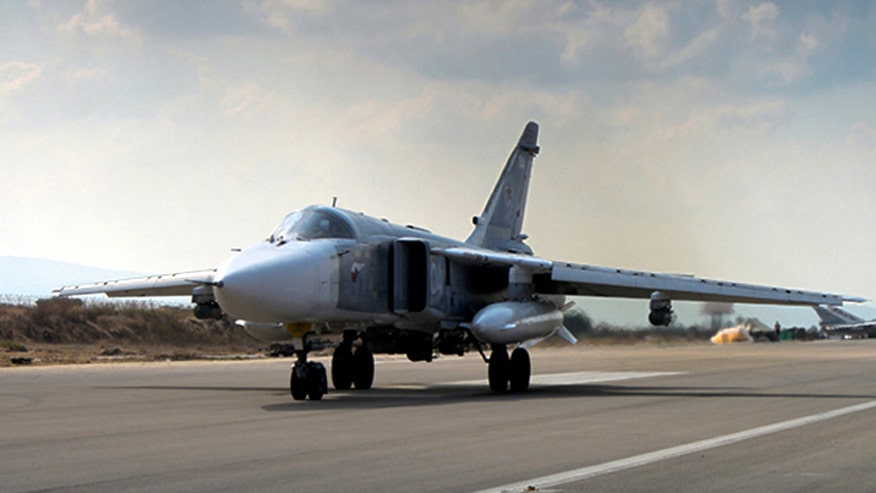 The Russian Defense Ministry has denied claims Russian aircraft struck the ancient Syrian city of Palmyra, state media report.
"All reports by foreign media that Russian planes allegedly struck the city of Palmyra are an absolute lie," a spokesman for the ministry was quoted as telling the TASS news agency. "Our planes in Syria do not strike populated areas and especially ones with architectural monuments."
Russia's Defense Ministry said Tuesday that its air force flew 20 missions in Syria, striking 12 Islamic State targets, according to Reuters.
Moscow's statement Tuesday follows activist and media reports Russia's airstrikes in Syria have damaged Palmyra, as well as the village of Serjilla in Idlib province. The Syrian National Coalition said the attacked area didn't have any ISIS presence.
Turkey's military, meanwhile, said more of its jets patrolling the border with Syria were placed in a radar lock by Russian planes and surface-to-air missile systems.
Also Tuesday, the Pentagon urged Moscow to meet with U.S. officials for talks after NATO's secretary-general rejected Russia's claims its military excursion into Turkish airspace was accidental.
"We await a response from them and we expect a response from them," Secretary of Defense Ash Carter told the Associated Press. U.S. and Russian officials met once by video conference late last week.
"It's only professional that you follow through on the request they made and they've not done that yet, and that may be a further sign of their strategic confusion," he added.
On Tuesday, NATO chief Jens Stoltenberg said the alleged intrusions were "very serious." He said there were two separate incidents and "the violation lasted for a long time."
Turkey's military reported Tuesday that eight Turkish F-16 jets patrolling the Turkish-Syrian border were harassed by a MIG-29 plane as well as surface-to-air missile systems based in Syria.
"It's unacceptable to violate the airspace of another country," Stoltenberg told the Associated Press.
Stoltenberg also said he was concerned that Russians are not targeting ISIS in Syria, "but instead attacking the Syrian opposition and civilians."
NATO spokesperson Carmen Romero said Stoltenberg later confirmed that organization's generals would be contacting Russia about the alleged entry. On Monday, NATO ambassadors met in a special session and called on Russia to cease such "irresponsible behavior."
NATO defense ministers are scheduled to meet Thursday in Brussels, during which Russia's actions in Syria and any resulting measures the U.S.-led alliance needs to take will be at the top of the agenda.
"Incidents, accidents, may create dangerous situations," Stoltenberg added. "And therefore it is also important to make sure that this doesn't happen again."
The Associated Press contributed to this report.