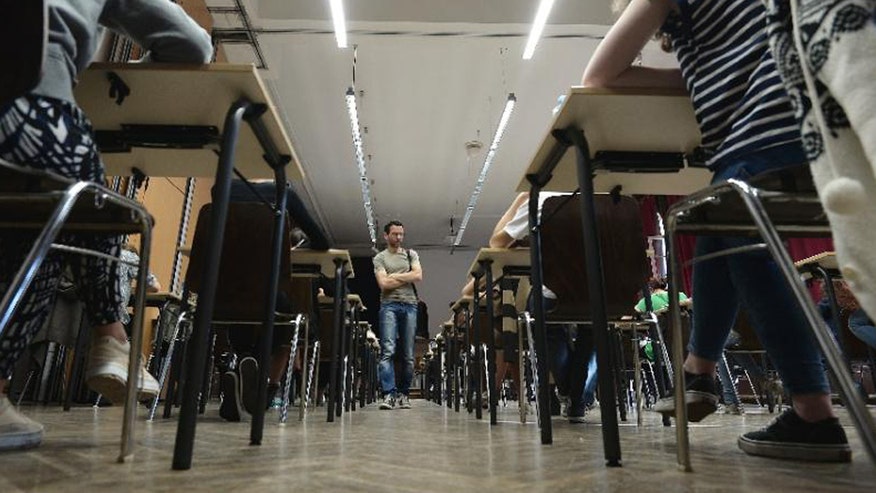 Buried at the end of a wonkish UN report about problems women face online last month was a proposal that free speech advocates say could lay the groundwork for a government grab of the web.
The report, titled "Cyber Violence against Women and Girls: A Worldwide Wake‐Up Call," described the bullying, harassment and threats faced by female Internet users as "a problem of pandemic proportion" ‐‐ and suggested governments across the globe may one day need to use their "licensing prerogative" to ensure that only Internet service providers "that supervise content and its dissemination" be "allowed to connect with the public."
"Telecoms and search engines, the indispensable backbone bringing the content to users, have a particular role and responsibility to protect the public from violent or abusive behaviors," the report, released at UN headquarters in Manhattan on Sept. 24, argued. "Regulators have a role to play, even if the solution to this challenge must be sought primarily in the political realm."
"This UN proposal is a well-intentioned, but terrible idea."

- Peter Scheer, First Amendment Foundation.
The report's authors dropped the bombshell without providing a game‐plan specific to the recommendation, but critics and free speech advocates cut through the bureaucratic language and discerned a chilling call for worldwide censorship.
"This UN proposal is a well-intentioned, but terrible idea," said Peter Scheer, of the First Amendment Foundation. "Much of what is termed "cyber violence" is protected speech under the First Amendment. It is protected not because harassing or bullying speech has social value---it does not. It is protected because, as much as we deplore that type of expression, we fear even more the prospect of government agencies deciding what we can and cannot say or read."
The report justified the radical recommendation by claiming 73 percent of women and girls with Internet access worldwide have experienced some degree of "cyber violence," which appeared to include everything from mild insults to serious threats. In Europe alone, UN research shows, 18 percent of women were victimized "as young as age fifteen," said Doreen Bogdan-Martin, strategic planning and membership chief for the International Telecommunications Union, the UN's information technology arm.
"That's a shocking figure when we realize that this corresponds to about nine million women," she said.
Although the report floated several less drastic measures, the suggestion that government regulators worldwide force standards on Internet providers, and thus the public, struck many as opening the door to a "big brother"-style overreach.
"The devil there could be in the details," First Amendment lawyer Ken White wrote on the Popehat blog. "Regulations could easily amount to content‐based censorship ... I don't trust the UN on free speech issues. You shouldn't, either. In a world where Iran wins a seat on the UN's Commission on the Status of Women, people who care about women's rights should also be skeptical."
Civilized governments have laws against harassment, threats and stalking that can be enforced without government-mandated snooping through digital content, according to some experts.
"Requiring these sites to police content themselves ‐‐ essentially requiring them to exercise broad, vague and essentially unreviewable censorship power ‐‐ would be a big mistake," said Marjorie Heins, director of the New York‐based Free Expression Policy Project. "It would be like making the telephone company responsible for the content of every phone call."
The proposal would essentially flip existing U.S. law, the framework under which most major service providers operate. Sites like Twitter and Facebook, which maintain terms of service that bar illegal activity, are in most cases not legally responsible for what users say while accessing the portal. According to the Electronic Freedom Foundation, the relevant law is a section of the 1996 Communications Decency Act.
"No provider or user of an interactive computer service shall be treated as the publisher or speaker of any information provided by another information content provider," the law reads.
Victims alleging harassment or threats online have always been able to pursue their tormentors in criminal or civil courts, as they would if threatened, harassed, libeled or slandered in person or in print.
The UN blueprint does not immediately step on the third rail of the Internet culture wars, offering a host of less controversial solutions first. "Sensitization" calls for education and training to promote "digital citizenship" and alter cultural norms about acceptable online behavior. Another potential remedy advocates working with service providers and industry players - under voluntary terms - to establish better means of protection.
"Should this mix still not bring about the needed change," the report added, "sanctions and enforced compliance with newly crafted regulations, laws and conventions will be necessary."
Bogdan-Martin called "cyber violence" against women a threat to all Internet users.
"The report has wide ramifications both for the safety and security of women and girls online, but also for the health of the online environment and by extension the future growth of online services," she said.
Barbora Bukovská, senior director for law and policy at ARTICLE 19, an international organization that combats censorship, said the report is commendable for raising the issue of online abuse of women.
"However," she said, "its recommendations in many aspects go beyond what could be considered as permissible restrictions on freedom of expression, including the recommendations to intermediaries."