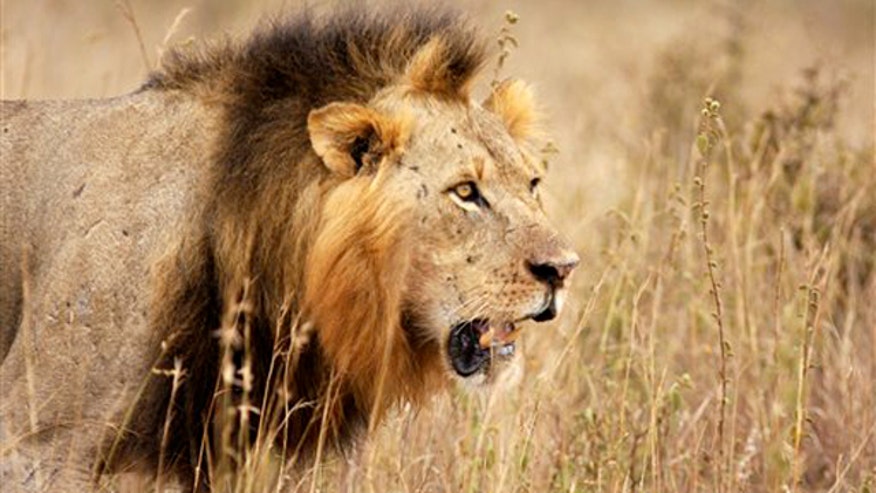 An expert cast doubt Saturday on reports that a male companion of Cecil, a famous lion killed by an American dentist in July, had also been shot dead by poachers.
A report on the Facebook page of an advocacy group called the Zimbabwe Conservation Task Force said earlier Saturday that the second lion, named Jericho, had been killed and that it would provide more details when they were available.
However, researcher Brent Stapelkamp told The Associated Press that Jericho is alive and moving around, according to the GPS data from his collar.
The Bhejane Trust – another local conservation group -- also reported that Jericho was shown as being alive at 8:30 p.m. local time, hours after being reported dead.
The killing of Cecil earlier this month sparked an international outcry. Zimbabwe officials told Fox News that they intend to press for the extradition of Minnesota hunter Walter Palmer, who killed Cecil with a bow and arrow after paying guides $54,000 in July.
Environment Minister Oppah Muchinguri told Fox News that she considers Palmer "a foreign poacher" and called for him to be extradited to the South African nation to face justice.
Cecil had reportedly befriended Jericho and together they oversaw two prides, one with three lionesses and seven cubs and another with three lionesses.
Jericho is known to be living in Hwange National Park and is now the head of the prides Cecil was looking after. Hunting is illegal in Zimbabwe's national parks, and it is considered unlikely that in daylight, as suggested by initial reports, hunters broke in to kill a lion, possibly in front of tourists.
The Zimbabwe Professional Hunters Association reportedly made the decision to refrain from killing any more lions of elephants, possibly to avoid a hunting ban being considered by Zimbabwean authorities in the wake of Cecil's death.
Fox News' Paul Tilsley and The Associated Press contributed to this report.