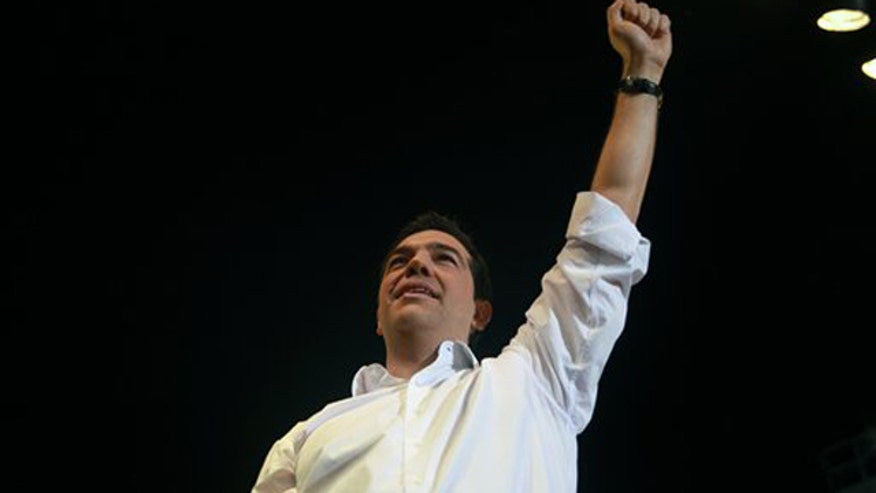 Greece risks a slew of problems, ranging from the collapse of its medical system to widespread blackouts if Greeks reject creditor demands in Sunday's vital referendum vote Sunday, the European Union's top official has warned.
Martin Schulz, the president of the European Parliament, told The Telegraph the EU authorities might have to prepare emergency funds to keep basic public services functioning to prevent the country from getting out of control.
"Without new money, salaries won't be paid, the health system will stop functioning, the power network and public transport will break down, and they won't be able to import vital goods because nobody can pay," he told the paper.
Greek Prime Minister Alexis Tsipras is gambling the future of his relatively young left-wing government on the snap poll, called last weekend. He has vehemently called upon a "no" vote, saying it would strengthen his hand to negotiate a better deal with the country's creditors, and a "yes" would be a capitulation to their harsh demands.
The Greek leader's high-stakes standoff with lenders resulted in Greece defaulting on its debts this past week and shutting down banks to avoid their collapse, and lose access to billions of euros after an existing bailout deal expired.
The sense of urgency was palpable all week when Greeks struggled to decipher a convoluted referendum question while being bombarded with frenzied messages of impending doom or defiance. The campaign was fought amid banking transaction restrictions on cash withdrawals to 60 euros ($67) per day and large queues forming at ATMs and the few bank branches opened to help pensioners without bank cards.
A series of polls published Friday at the end of a frantic weeklong campaign showed the two sides in a dead heat, with an incremental lead of the "yes" vote well within the margin of error. They also showed an overwhelming majority of people — about 75 percent — want Greece to remain in the euro currency.
Meanwhile, Greece's Finance Minister Yianis Varoufakis has accused other eurogroup nations of holding out on a bailout deal to allow bank coffers to run dry so they could spring a "vile momentum" on the government to accepting a so-called humiliating deal.
"What they're doing with Greece has a name: terrorism. Why have they forced us to close the banks? To frighten people. It's about spreading terror," he told El Mundo.
As polls opened Sunday, a bounty of Greeks have been decided on whether to support the "yes" campaign or the "no" campaign.
Aris Spiliotopoulos, a 22-year-old who is launching his own tourism start-up, said he believes the vote is about whether Greece choses to stay among the club of nations that uses the euro aand ultimately whether the country opts to stay in the European Union itself.
"I am voting 'yes' because I believe that my future and even my kids' future, in twenty or thirty years from now, is in the eurozone and the European Union," Spiliotopoulos said on the eve of the referendum.
Gym teacher Alkiviadis Kotsis said he is voting "no" because the country and its people simply can't take more austerity.
"No matter how many loans you take, you cannot get by if you don't produce things. You can't do anything," he said.
No matter the result, Tsipras faces an uphill battle, fraught with uncertainty about whether he will be able to deliver an improved bailout program.
Yale University political science professor Stathis Kalyvas said the Greek government will face daunting challenges no matter which way the vote goes. In case of a "no" win, Kalyvas said the Greek government could be confronted with the refusal of other eurozone countries to negotiate a better deal because of their distrust of Tsipras.
A "yes" win won't mean a road to the negotiating table strewn with roses either, but would likely usher in a new government with a shot at negotiating an improved deal, Kalyvas said.
He said if the European Union wants to keep Greece in the eurozone, it will have to come up with "a very generous plan" since the cost of the crisis has shot up to unanticipated levels.
That was borne out by German Finance Minister Wolfgang Schaeuble, who told daily Bild on Saturday that future negotiations between Greece and its creditors will be "very difficult," because the country's economic situation has worsened dramatically in recent weeks.
Schaeuble repeated the German government's position that for a community like Europe to work, all countries need to abide by the rules.
With speculation swirling on the referendum's impact on Tsipras' government, Greece's Deputy Prime Minister Yiannis Dragasakis denied media reports that he would accept to lead a new "grand coalition" government.
"The country has a prime minister who will have an even stronger popular mandate and support. I will serve this mandate on my part," he said in a statement.
Former chief of the European Commission and Italy's ex-premier, Romano Prodi, said it is the EU's own survival that is at stake as the botched handling of the Greek crisis head further south.
"If the EU cannot resolve a small problem the size of Greece, what is the point of Europe," he told The Telegraph. "The First World War broke out over a minor incident. Let us hope this is not our Sarajevo."
The paper reports it has emerged that European members on the board of the International Monetary Fund tried to suppress the report by the agency showing that the country's debt is "unsustainable."
This would validate the claim by Syriza that a deal without debt restructuring fails to go to the root of the problem.
So far, EMU creditors have refused to offer the substantial debt relief Greece apparently needs. The fear is that the hard stance would backfire, forcing Greece to default on an estimated 340 billion euro ($377 trillion) of liabilities to the Eurozone. This may entail significant losses for creditors.
Click for more from The Telegraph
The Associated Press contributed to this report