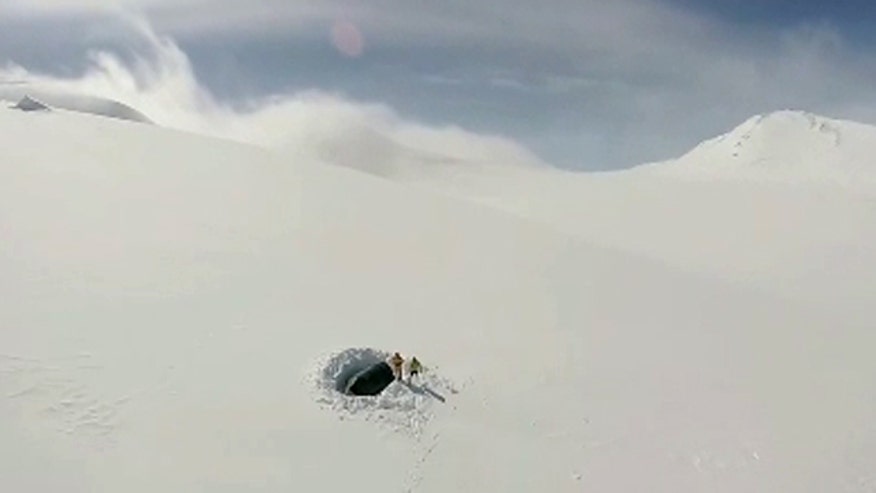 Three climbers rescued from Canada's highest peak are recounting their week stranded in a whiteout, battling 100mph winds, freezing temperatures and frostbite.
When the three experienced adventurers got caught in a blinding storm on June 2, they became trapped at 20,000 feet on Mt. Logan in Kluane National Park, and had to dig a snow cave with their hands for shelter, the Canadian Broadcasting Company reported Friday.
Climber Bryce Brown said the group reached the summit, but near 100mph winds severely limited visibility and made the descent impossible.
"We were actually crawling at one point, just trying to make forward progress," Brown told the CBC while recovering this week in Alberta. The winds were so intense, he feared they would literally be blown off the mountain.
"Luckily, we found a crevasse on the far side of the pass, and rather than continuing our descent in those conditions, we actually dug into the crevasse and created kind of a snow cave," Brown said.
The climbers spent the next three days trying to stay warm under six feet of fresh snow. After digging out of their snow cave, they made slow progress down the mountain, descending less than 700 feet in one day. By June 9, stormy weather trapped them again at 17,300 feet.
Brown says one of the climbers suffered frostbite. After more than a week on the mountain, they were all showing signs of altitude sickness. Extreme altitude sickness can occur for most people at heights over 18,000 feet.
"Our food and our fuel supplies were dwindling," says Brown, "and so at that stage, we were starting to face the reality that we might not get off the mountain under our own power."
The group then decided to try using its satellite phone to call the national park service, Parks Canada. Two days later, a specialized high-altitude helicopter rescued them from their 17,300-foot camp and flew them to safety. The rescue efforts were captured on video by Parks Canada.
Brown and his friends were thrilled to be rescued from their harrowing ordeal.
"It was fantastic. If the weather hadn't cleared to allow the helicopter evacuation, within a few days, we would have been in serious trouble," Brown said.