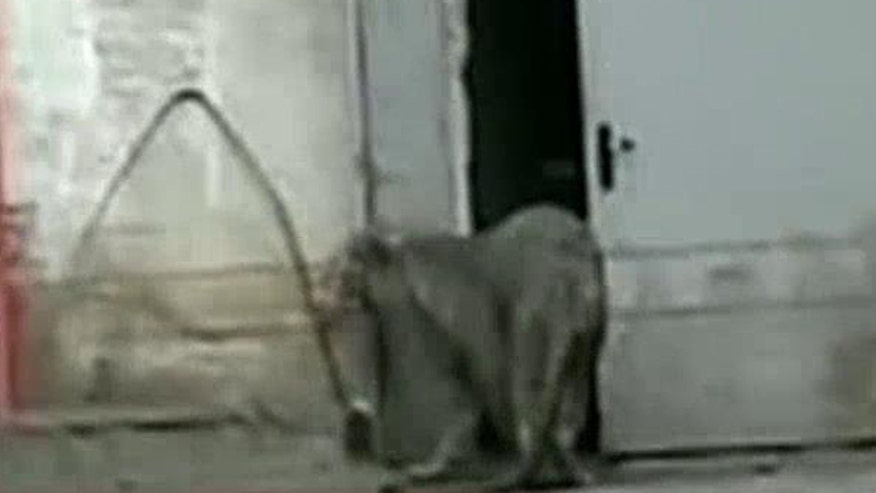 Armed police in Georgia's flooded capital were roaming the streets Thursday searching for an escaped tiger and hyena as fearful residents were told to stay away from bushes a day after a tiger mauled a man to death.
Skittish residents in Tbilisi contacted police at the slightest noise or strange movement outside.
"We heard roaring in the street," one woman told the Rustavi 2 TV channel, according to The Guardian. Police with rifles and flak jackets combed the nearby area but didn't find anything.
Hundreds of volunteers in the city who had been helping clear debris after the flooding were ordered to stay off the streets Thursday because of the potential threat.
Authorities have told people to stay away from woods, bushes and places that animals can hide, including garbage bins with food, The Guardian reports.
A man who was checking a flooded warehouse in Tbilisi Wednesday was mauled by one of the escaped tigers from the city's zoo.
"We entered the depot and, suddenly, a white tiger rushed out of an adjacent room and attacked one of the workers, jumping at his throat and mauling him," colleague Alexander Shavbulashvili told The Associated Press. "We broke the window of another room to flee, and the sound of breaking glass must have scared it and it ran away."
The tiger was later found and shot by police.
Georgia's politicians blasted the zoo after the man was killed, saying that the zoo claimed Tuesday that all of its missing tigers had been accounted for.
Georgia Prime Minister Irakli Garibashvili ordered zoo officials to make another count of how many animals remain missing, The Associated Press reported.
"We are only looking for a tiger and a hyena now," an interior ministry spokeswoman said Thursday.
Hundreds of residents gathered outside a government building Wednesday night to show support for the zoo's director after he was called in for questioning by police.
"The government said everything was OK, so we were so shocked when we heard about the tiger attack," teacher Natia Koberidze told The Guardian. "The government has been so slow and unprofessional."
At least 20 people have died in the flooding, with several still missing.
Click for more from The Guardian.