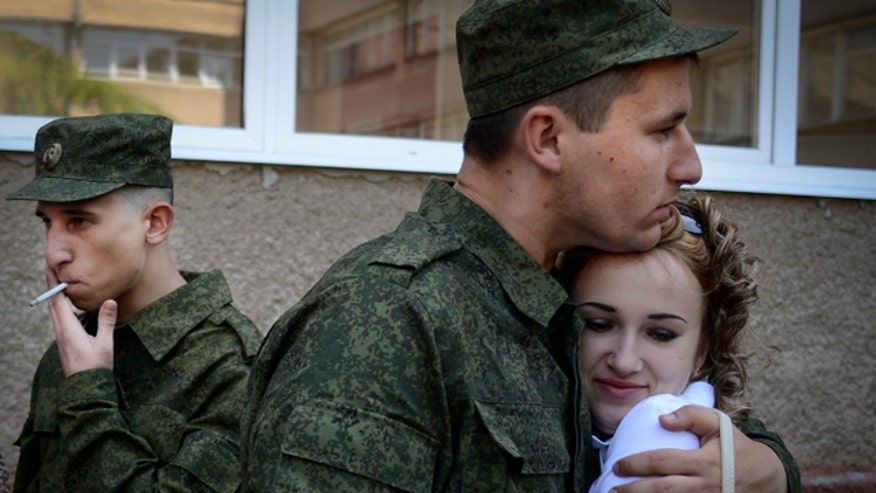 Ukraine's fragile cease-fire with Russian-backed separatists could unravel without both sides agreeing to a long-term truce, foreign policy analysts fear.
While Russian President Vladimir Putin said this month that the situation in eastern Ukraine has "become quieter," Ukrainian officials remain weary over their actual role in the conflict.
"[Putin] is pushing the buffer zone further out … what you see every day is Ukrainian soldiers being killed or hurt in firefights with these pro-Russian forces who are being funded and supplied by the Russian military," Boris Zilberman, deputy director of congressional relations with the Foundation for Defense of Democracies, told FoxNews.com.
Foreign policy analysts believe certain indicators show Putin has the desire for Russia to ultimately re-establish its sphere of influence over former Soviet territory.
"The problem is people try to look at Putin [like] a rational actor … Putin considers the current situation as an aberration and their [Russian] empire to be the status quo – he is just looking to return to that," said Jim Hanson, executive vice president for the Center for Security Policy.
Zilberman says we need to look at the bigger picture with Putin. "For Ukraine, it's certainly to undermine their sovereignty, but it's also to use Ukraine as an instrument to divide NATO, Europe … it's giving [neighboring] countries a warning that if you get too close with NATO, the United States and start making packs with them … they will go the way of [Ukraine]."
There is a growing debate over whether to counteract Moscow, and whether Washington should send a larger U.S. presence to the region.
In March, the Obama administration said it would provide another $75 million in nonlethal aid to Ukraine's military. There was outrage then from some administration officials and members of Congress over the decision not to send weapons.
"We haven't deployed anything larger than a company-sized element for any kind of exercise or training at all in that region," said Hanson. He suggests having a bigger footprint in Ukraine to "remind the Russians that we mean business – until then, they don't respect anything but power."
The next steps in resolving this crisis is in "Vladimir Putin's hands," said Zilberman. "If history has been an indicator, our response will be a little bit slow and it's going to be measured and it's not going to be something that will ultimately push the Russians back because they have a lot more skin in the game than we do."
Hanson believes in the next six months, the U.S. and its European allies will further backtrack. "Putin will go as far as he wants and we will make noises about it on the sidelines."
Chris Snyder is a producer for Fox News based in New York. Follow him on twitter: @ChrisSnyderFox.