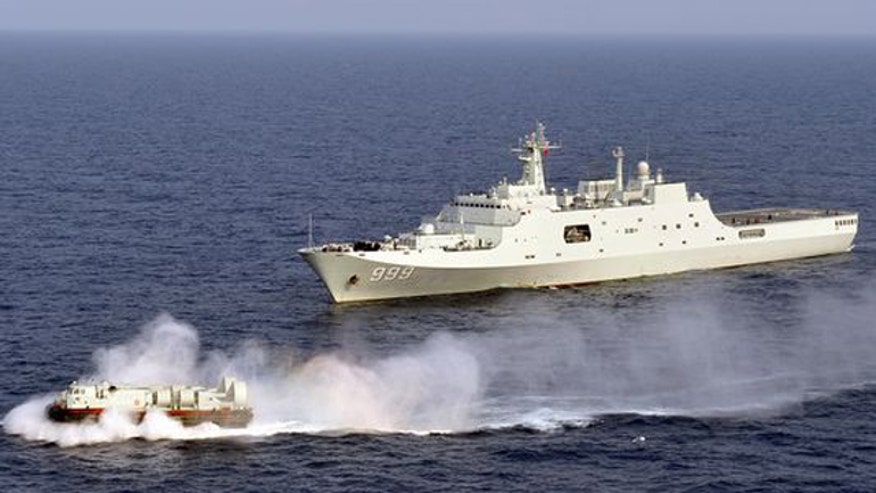 China's buildup in the South China Sea is pushing the region closer to a possible military standoff over disputed territory, foreign policy experts tell FoxNews.com.
The U.S. and its allies are raising concerns over Chinese land reclamation projects – essentially building manmade islands in the middle of the sea that many consider is a way for Beijing to expand its influence.
"This should be of enormous concern -- $5.3 trillion in trade transits through the South China Sea; this is one of the major arteries for world trade … China's actions are clearly an attempt to establish dominance over this vital set of waterways," said Dean Cheng, a senior research fellow with the Heritage Foundation.
He added that China's new attitude is "more and more -- 'no, this is our territorial waters. You can pass through with our permission.'"
Six countries -- China, Brunei, Malaysia, the Philippines, Taiwan and Vietnam -- have all long maintained overlapping claims to waters and land in the South China Sea. Yet Beijing has claimed the largest portion, with officials saying they have the right to control roughly 90 percent of that region.
"As the Chinese go forward with this, they are making the claim that this is our territory and the waters surrounding within about 12 nautical miles are our territorial waters," said Chris Griffin, executive director of the Foreign Policy Initiative.
U.S. officials have monitoring China's movements, but there is no official position on the overlapping territorial claims by China and five other nations. During a Senate panel Wednesday, David B. Shear, assistant secretary of defense for Asian and Pacific security affairs, emphasized America's commitment to freedom of navigation in the area.
"While other claimants have upgraded their South China Sea outposts over the years, China's land reclamation activity vastly exceeds these other claimants' activities," said Shear. "We are concerned that the scope and nature of China's actions have the potential to disrupt regional security."
Even with added U.S. pressure, China is pushing ahead with its military buildup.
"We know at least one, possibly two, of these islands; they are preparing to build airstrips … they look like they are being prepared to allow them to base fighter aircraft or military helicopters out there," said Cheng.
There is some indication Washington and Beijing could be moving closer to a military standoff.
"The Chinese military are playing a larger role in the South China Sea dispute. With the possible introduction of the U.S. Navy into the area, we are now looking at the possibility of two militaries staring at one another," said Cheng.
Griffin points to a similar dispute in 2013 in the East China Sea as tensions flared over China's self-proclaimed air defense zone. "In response, we flew B-52s over them to indicate to them we don't take their claim as being legitimate."
This, he says, could be an indicator of what a potential U.S. response might look like in the weeks to come.
Chris Snyder is a producer for Fox News based in New York. Follow him on twitter: @ChrisSnyderFox.