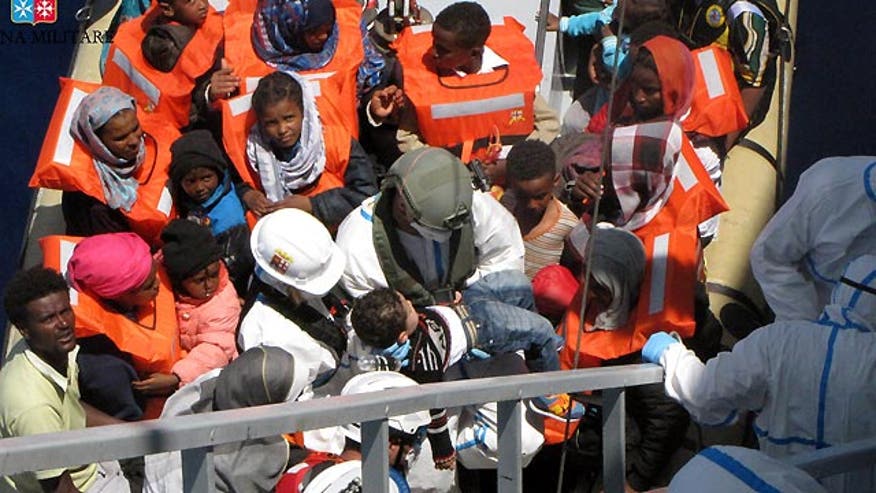 CATANIA, Sicily – An Italian rescue patrol picked up nearly 100 migrants who reported being at sea for 12 days as U.N. Security Council members mulled a draft resolution authorizing an EU mission to seize the smugglers' boats that are fueling the Mediterranean migrant crisis.
The developments came as hundreds of other migrants arrived in Italian ports after having been rescued from overcrowded dinghies and fishing boats. Most have been setting off from Libya, where human traffickers charging migrants around $1,000 apiece are operating with near-impunity amid the country's political chaos.
The EU's foreign policy chief, Federica Mogherini, will brief the Security Council on Monday about the crisis and EU proposals to coordinate the fight against traffickers. A draft resolution would authorize an EU mission for one year to seize boats where there's credible evidence they're being used by smugglers, a council diplomat said Wednesday in New York.
The resolution, which would be militarily enforceable, would cover the high seas, Libya's territorial waters and coast, and mission members could also go on land.
Some European Union leaders had proposed a U.N.-blessed operation to destroy smugglers' boats before they are used. The idea, however, has raised a host of legal concerns and Russia -- which has veto power at the Security Council -- has already opposed any ship-destruction resolution.
"Apprehending human traffickers and actually arresting those vessels is one thing, but destroying them would be going too far," said Russia's ambassador to the EU, Vladimir Chizhov.
However, Russia reportedly supports the draft resolution calling for the ships to be seized, said the council diplomat, who spoke on condition of anonymity because he wasn't authorized to provide details of the negotiations.
The diplomat stressed that the resolution, which is expected to be approved before a May 18 EU foreign ministers' meeting in Brussels, is aimed at reducing migrants' suffering.
In addition, Libya will probably need to give the mission permission for any actions in its waters or on its shores -- no small task given the North African nation's rival governments.
The migrants kept coming Wednesday even as diplomats debated how best to stop them.
Two coast guard rescue boats brought 650 migrants ashore in Roccella Ionica, an Italian port in the southern Calabria region, while an equal number arrived in Naples. Hundreds more were brought ashore in rescue boats to the Italian cities of La Spezia, Taranto, Messina and elsewhere.
The Italian border patrol ship Monte Cimone intercepted a migrant boat carrying 98 passengers who reported having been at sea for 12 days before being rescued. A third of the passengers were women, and three of them were pregnant. The migrants told Italian officials they had spent the last two days adrift 125 miles off Sicily, without food or water and with the ship's hold flooding.
In Libya, a top coast guard official, Gen. Ayoub Ghasem, told The Associated Press that more than 700 migrants were caught before leaving Libya's territorial waters on Monday and Tuesday.
Libya sends such migrants back to detention centers, but the migrants usually bribe the militiamen guarding the prisons to get out.
"We have very limited resources," Ghasem said. "Europe wants Libya to be its policeman, not a real partner. That is the problem."