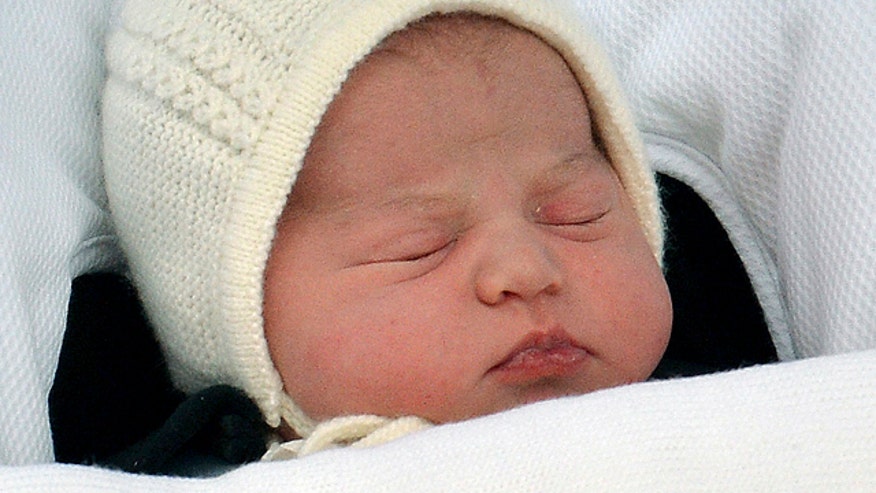 After days of speculation and wagers by royal watchers all over the world, Kate Middleton and Prince William have named their new baby daughter Charlotte Elizabeth Diana.
The littlest royal will carry the title Her Royal Highness Princess Charlotte of Cambridge, a Kensington Palace said in a statement Monday.
Princess Charlotte -- who was born Saturday at London's St. Mary's hospital -- is now home with her royal parents at Kensington Palace. She met her grandparents and other family members at the couple's palace home in London Sunday, Reuters reported.
Top bets for the baby's name had included Alice and Charlotte, followed by Elizabeth, Victoria and Diana -- all names with strong connections to royal tradition. Diana was a favorite as it pays tribute to William's late mother, and Elizabeth is both the Queen's name and Kate's mother's middle name.
The name Charlotte is French in origin and means "petite" and "feminine," Sky News reported. The feminine form of Charles, the name has a long royal pedigree and became popular in the 18th century after King George III's queen, the BBC says. Charlotte is also the middle name of Kate's sister Pippa.
Kensington Palace said the baby was born at 8:34 a.m. London time and weighed 8 pounds 3 ounces. Prince William was with his wife at the hospital along with the couple's son, Prince George. The palace said Kate, 33, and her infant were doing well, and that Prince William was present for the birth.
Kate, who wed William in April 2011, gave birth to Prince George at the same hospital in July 2013. When George was born, officials waited two days before announcing his name.
The princess is fourth in line to the throne and the fifth great-grandchild of Queen Elizabeth II. The monarchy has not welcomed a princess born this high up the line of succession since Princess Anne, the queen's second child, was born in 1950.
At 21 months, George is currently third in line to the throne, after his grandfather Prince Charles and William. The newborn becomes the fourth in line, bumping Uncle Harry to fifth place.
Thanks to a recent change in law, the princess will hold her place in the line of succession that for centuries had put men ahead of their sisters. The change means she'll keep her position even if she has a younger brother, though if George has children one day, they'll move ahead of her.
The Associated Press contributed to this report.