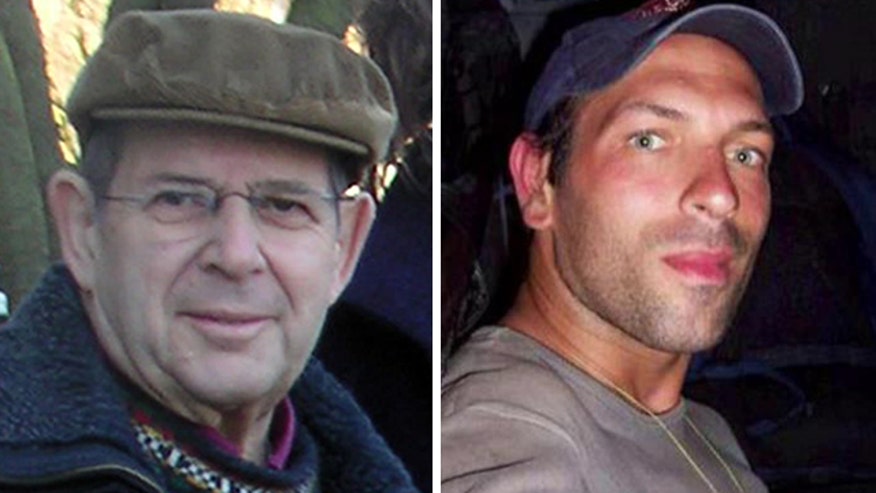 Warren Weinstein gave his life helping the people of Pakistan, and spent his last years as a hostage of Al Qaeda, forced to beg for his life in grim videos that showed his alarming deterioration at the hands of his captors.
Weinstein, an American relief worker who was 73 when he was accidentally killed in a U.S. drone strike operation in January, was originally taken hostage by Al Qaeda in August, 2011. He was snatched by terrorist gunmen at his Lahore, Pakistan, home while working as an economic development adviser for USAID, following a stint in the Peace Corps.
"Warren spent his entire life working to benefit people across the globe and loved the work that he did to make people's lives better," Weinstein's family said in a written statement released on Thursday, after President Obama announced with regret that Weinstein and an Italian hostage had been killed in strikes that also killed two key American Al Qaeda leaders.
"In Pakistan, where he was working before he was abducted, he loved and respected the Pakistani people and their culture," Obama said. "He learned to speak Urdu and did everything he could to show his utmost and profound respect for the region."
Weinstein earned his PhD in international relations and economics from Columbia University in 1970 and worked as a tenured professor in Oswego's political science department in the 1970s. He left in 1979 to work as a contractor for the United States Agency for International Development where he worked with people across Africa and South Asia.
"Unfortunately, the assistance we received from other elements of the U.S. Government was inconsistent and disappointing over the course of three-and-a-half years."

- Elaine Weinstein
According to the website set up by his family, Weinstein served as a development advisor in Pakistan for J.E. & Austin Associates from 2004 until he was captured in 2011. Before he was kidnapped, Warren came home four times a year to be with his family in Rockville, Md., including his wife, Elaine and two daughters, Jennifer, 42, and Alisa, 40. He devoted his enter life to helping others since starting his career as a human rights advocate in 1969.
Also killed in the two operations that occurred sometime in January was Italian national Giovanni Lo Porto, who disappeared in January 2012, shortly after arriving in Pakistan to work for a German organization building houses for victims of a 2010 flood. Sources said U.S. officials did not recover the bodies of the two hostages, but are certain of their deaths.
A few months after Weinstein's capture, Al Qaeda leader Ayman al-Zawahiri released a recording claiming responsibility for the kidnapping. He described Weinstein as "a former employee and a current contractor working with the U.S. government in its aid program to Pakistan, which aims to fight the jihad in Pakistan and Afghanistan, and just like the Americans, arrest any suspect linked to Al Qaeda and the Taliban, even if they were far related."
Weinstein was subsequently seen in four hostage videos, including the last one, which was released in December, 2013. In the video, Weinstein pleaded with the U.S. government to help him.
"Nine years ago I came to Pakistan to help my government, and I did so at a time when most Americans would not come here, and now when I need my government it seems that I have been totally abandoned and forgotten," Weinstein said during the 13-minute video. "And so I again appeal to you to instruct your appropriate officials to negotiate my release."
Those who knew Weinstein, a Maryland resident, were alarmed by his gaunt appearance. His face was partially covered with a long beard and he wore a gray track suit and a black knit ski cap.
Al Qaeda said at the time that Weinstein would be released if the U.S. halted air strikes in Afghanistan, Pakistan, Somalia and Yemen. They also demanded the release of all Al Qaeda and Taliban suspects around the world.
The White House responded to the demands then by saying that it wouldn't negotiate with Al Qaeda.
"We've long said we don't make concessions to people who kidnap U.S. citizens," State Department spokeswoman Marie Harf said at the time.
In an earlier video from 2012, Weinstein said that if the U.S. did not comply with their demands, that he would surely die.
"My life is in your hands, Mr. President," he said in the message which appeared to be directed at Obama. "If you accept the demands, I live. If you don't accept the demands, then I die.
"I've done a lot of service for my country, and I would hope that my country will now look after me and take care of me and meet the demands of the mujahedeen," he added.
In an effort to bring him home safe, Weinstein's family established the website www.BringWarrenHome.com and used the #BringWarrenHome to bring attention to the cause. The website included photos of Warren with his wife, two daughters, son-in-law, as well as his two grandchildren.
Weinstein's family praised key lawmakers who took up his cause, but bitterly lashed out at the other elements in Washington.
"On behalf of myself, our two daughters, our son-in-law, and two grandchildren, we are devastated by this news and the knowledge that my husband will never safely return home."
"I want to thank Congressman John Delaney, Senator Barbara Mikulski and Senator Ben Cardin -- as well as specific officials from the Federal Bureau of Investigation -- for their relentless efforts to free my husband," Weinstein's wife, Elaine, said.
"Unfortunately, the assistance we received from other elements of the U.S. Government was inconsistent and disappointing over the course of three-and-a-half years," she said. "We hope that my husband's death and the others who have faced similar tragedies in recent months will finally prompt the U.S. Government to take its responsibilities seriously and establish a coordinated and consistent approach to supporting hostages and their families."
While in Pakistan, Warren wore traditional Pakistani garments and speaks Urdu. He is Jewish, but not observant, and his wife said she did not think her husband was targeted because of his religion.
The Associated Press contributed to this report