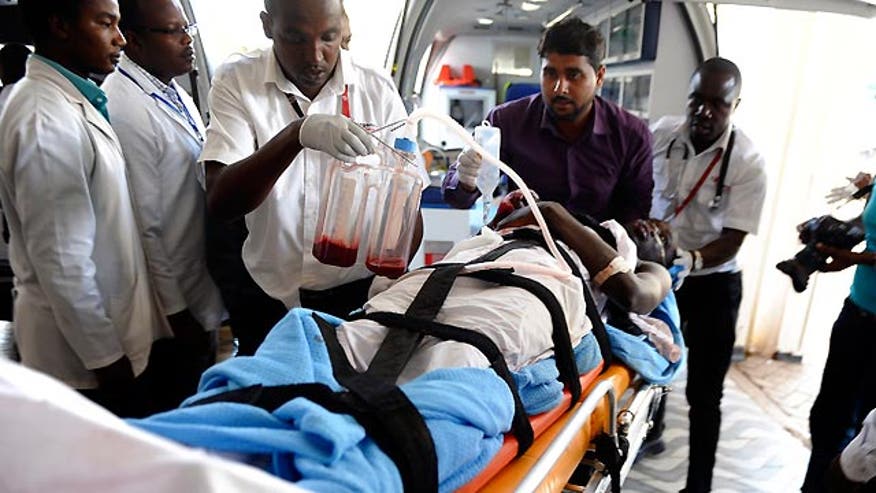 Five people have been arrested on suspicion of involvement in the massacre at Garissa University College that left 148 people dead, a Kenyan official said Saturday.
Kenyan security agencies arrested three people trying to cross into Somalia, said Interior Ministry spokesman Mwenda Njoka in a Twitter post. He said the three are associates of Mohamed Mohamud, also known as Dulyadin Gamadhere, a former teacher at a Kenyan Madrassa Islamic school who authorities say coordinated the Garissa attack. Kenyan authorities have put a $220,000 bounty for information leading to Gamadhere's arrest.
The three arrests brings to five the number of suspects arrested in relation to the Garissa attack Thursday as two suspects were arrested at the college.
The arrests came as al-Shabab on Saturday warned of more attacks in Kenya like the assault on the college.
Sky News reports that the Al Qaeda-linked militant group vowed "another bloodbath" in a "long gruesome war" in an emailed statement.
"Not only are you condoning your government's oppressive policies by failing to speak out against them, but are reinforcing their policies by electing them," the statement said. "You will, therefore, pay the price with your blood."
Reuters reported the group warned that Kenya's cities will "run red with blood."
Kenya Interior Minister Joseph Nkaissery on Friday updated the attack's death toll to 148.He said 142 of the dead were students, three were policewomen and three others were soldiers.
Also Saturday, a survivor of the Garissa killings was found alive, two days after the attack by Islamic extremists.
Cynthia Cheroitich, 19, told The Associated Press from her hospital gurney that she hid in a large cupboard and covered herself with clothes, refusing to emerge even when some of her classmates came out of hiding at the demands of the gunmen from the Al-Shabab group.
Cheroitich said she didn't believe that rescuers urging her to come out of her hiding place were there to help, suspecting at first that they were militants.
"How do I know that you are the Kenyan police?" she said she asked them.
Only when Kenyan security forces had one of her teachers appeal to her did she come out, she said.
"I was just praying to my God," Cheroitich, a Christian, said of her ordeal.
The woman appeared tired and thirsty, sipping on yoghurt and a soft drink, but otherwise seemed in good health.
The Al-Shabaab attackers told students who were hiding in dorm rooms to come out, but once some men appeared, the gunmen shot them anyway.
The gunmen singled out Christians at the university, killing them on the spot. But Muslims were among the dead, as were women, even though the attackers had allegedly said the women would be spared.
Al-Shabaab has struck several times in Kenya, including the siege at the Westgate Mall in Nairobi in 2013 that killed 67 people, to retaliate against Kenya for sending troops to Somalia in 2011 to fight the militants and stabilize the government in Mogadishu.
The U.N. Security Council expressed outrage Friday as well. A statement approved by all 15 council members paid tribute to Kenya's role in fighting "terrorism," especially its role in the African Union's mission in Somalia against Al-Shabaab.
President Obama expressed his condolences Friday "for the lives lost in the heinous terrorist attack."
Obama, who is scheduled to visit Nairobi in July, "emphasized his support for the government and people of Kenya," according to a statement. It added that he and Kenyatta would discuss how to strengthen counterterrorism cooperation.
One day before the attack, President Uhuru Kenyatta dismissed the warning as well as an Australian one pertaining to Nairobi and Mombasa, saying: "Kenya is safe as any country in the world. The travel advisories being issued by our friends are not genuine."
The Associated Press contributed to this report