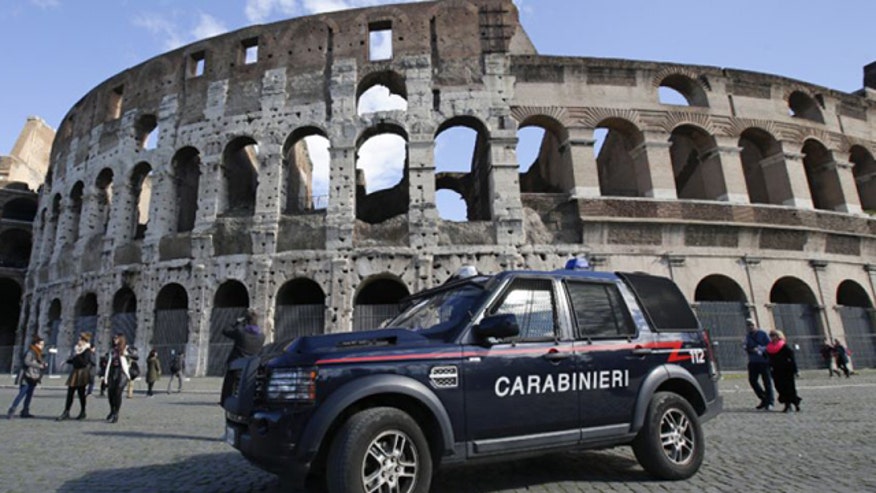 Two American tourists have been ordered to appear in court in Italy after they were caught carving their names into Rome's Colosseum.
The visiting Californians snuck away from their tour group on Saturday and began scratching their initials into the amphitheater walls using a coin, The Guardian reported.
Police caught the pair but not before they managed to carve a "J" and an "N" around 3 inches high into the Colosseum wall. The paper also reports that the women took a selfie with their carvings.
The young women, aged 21 and 25, were cited for "aggravated damage to a building of historical and artistic interest," according to The New York Post.
Carabinieri Captain Lorenzo Iacobone said the young women apologized for carving their names, but he said such acts "are extremely serious, and no one considers the damage they are creating," The Associated Press reports.
"We did not imagine it was something so serious," the tourists reportedly said to Italian media, adding that they will remember the rules "for a lifetime."
Both have been ordered to appear in court. They were picked up Saturday but freed later.
Defacing the Colosseum's walls is strictly forbidden, but some visitors think little of breaking the rules, a spokesman for the Special Superintendency for the Archaeological Heritage of Rome told The Guardian.
"There's a difference in perception. Museums are treated like churches, sacred places where there are things of great value," he said. "Whereas the Colosseum is an incomplete building which has already been robbed."
The arena was completed in the first century, but fell into disrepair after the fall of the Roman Empire and its stone was routinely quarried and used in other buildings.
The paper reports that three months earlier, a 42-year-old Russian tourist was caught carving a 10-inch-high letter into the Colosseum's walls. He was given a four-month suspended prison sentence and fined 20,000 euros (around $21,700).
Click to read more from The Guardian.