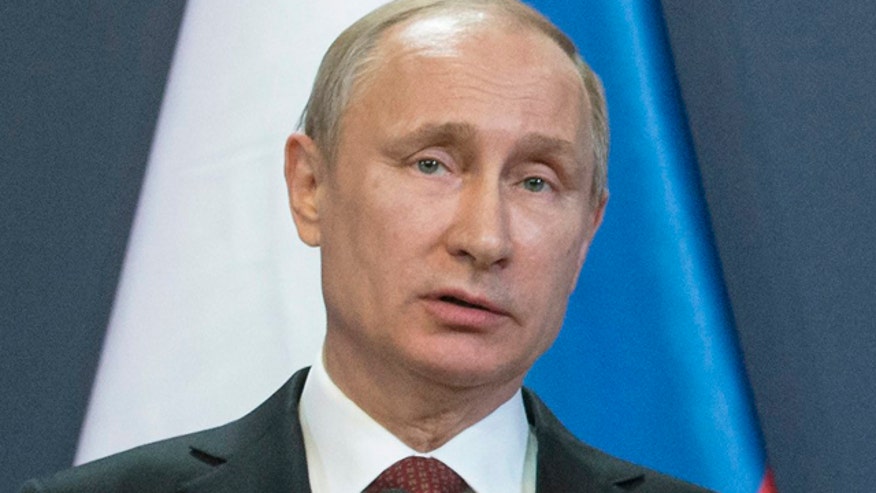 The surrender of the key eastern Ukraine town of Debaltseve to pro-Russian rebels is raising debate over whether the cease-fire deal brokered only last week is already dead.
Military experts Air Force Col. Cedric Leighton (Ret.) and J.D. Gordon told FoxNews.com the latest actions in Ukraine show Russia's credibility has reached a new low.
Putin's comments on Ukraine's government are raising eyebrows. He described how "yesterday's miners or yesterday's tractor drivers" are putting Kiev's forces on the run.
"It is very clear to me that Vladimir Putin is using the so-called pro-Russian separatists as a way in which he can exercise influence and leverage over Ukraine and not matter what piece of paper he signs … he is going to move forward with his goal to put Ukraine within the Russian column," said Leighton, a former member of the Joint Chiefs of Staff.
It's unclear whether the West, including the U.S., can help Ukraine maintain a cease-fire with the rebels.
"There is no mechanism within the cease-fire or true enforcement … there is no enforcement with teeth," said Leighton. "I think the way to do this is to actually arm the Ukrainian government and not only provide them with nonlethal aid, but actually defensive weapons that could do something to actually protect western Ukraine."
Sending weapons, however, isn't without concern. "There already have been 5,000 people killed over this fight for eastern Ukraine. If the U.S. gives Ukraine lethal aid right now, that death count goes up," said Gordon, a former Defense Department spokesperson.
He added, "it could be counterproductive to give the Ukrainians military aid right now … the Ukrainian government has to have a strategy that they need to find out where that line is going to be drawn in eastern Ukraine."
Both agree, if increased pressure isn't put on Putin to pull back pro-Russian rebels, Moscow might try to keep pushing farther into Ukraine.
Chris Snyder is a producer for Fox News based in New York. Follow him on twitter: @ChrisSnyderFox.