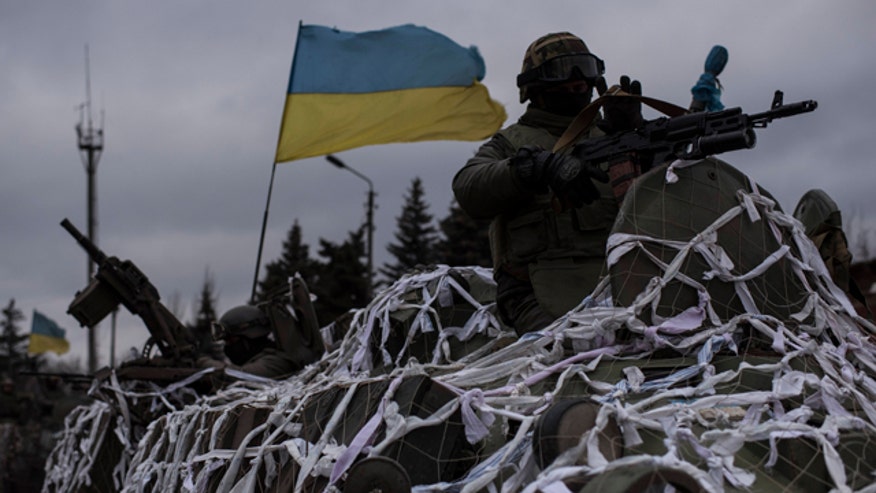 Fighting rages on in Ukraine's eastern region, but Ukrainian leaders are hopeful fresh talks in Minsk will resolve the months-long conflict.
Ukrainian lawmaker Hanna Hopko told FoxNews.com Tuesday her country is closely watching the negotiations to see what Russia might propose.
Hopko is a democratic activist who took part in last year's Euromaidan demonstrations -- the movement that led to the ouster of President Viktor Yanukovych. At the time, Yanukovych was accused by protesters of being too close to Russian President Vladimir Putin.
The violence, she explains, was the reason many people in Ukraine put blame solely on Putin. "Ukrainians are interested in stopping Putin and finally [want to] have peace … and stop [the] fighting." She feels certain Moscow has a direct connection in helping pro-Russian separatists. "There are a lot of Russian troops and tanks in Ukrainian territory."
She points to seven civilians killed in eastern Ukraine Tuesday as an example of separatists using Moscow's help to launch new attacks. So far, the conflict has killed more than 5,300 people.
There have been increasing calls in Washington to send Kiev weapons to boost Ukraine's defenses. But European leaders, including German Chancellor Angela Merkel, have so far been hesitant to go down that road and prefer to pursue a diplomatic agreement.
Hopko says sending weapons to Ukraine is crucial. "Having defense weapons will help Ukrainians to save lives … it's important for us to have the capacity of [strengthening] defense in our territory."
The chance for a political deal between Ukraine and Russia seems unclear. "Putin is a very unpredictable person who already made many inadequate decisions starting with the annexation of Crimea almost a year ago," said Hopko.
Further sanctions might push Russia to the negotiating table.
"It's important that the international community … build a coalition to support Ukraine and extend sanctions," said Hopko. She adds that limiting Russia's economic ability could cause the oligarchs or country's business leaders to put increased pressure on Putin to make a deal.
Chris Snyder is a producer for Fox News based in New York. Follow him on twitter: @ChrisSnyderFox.