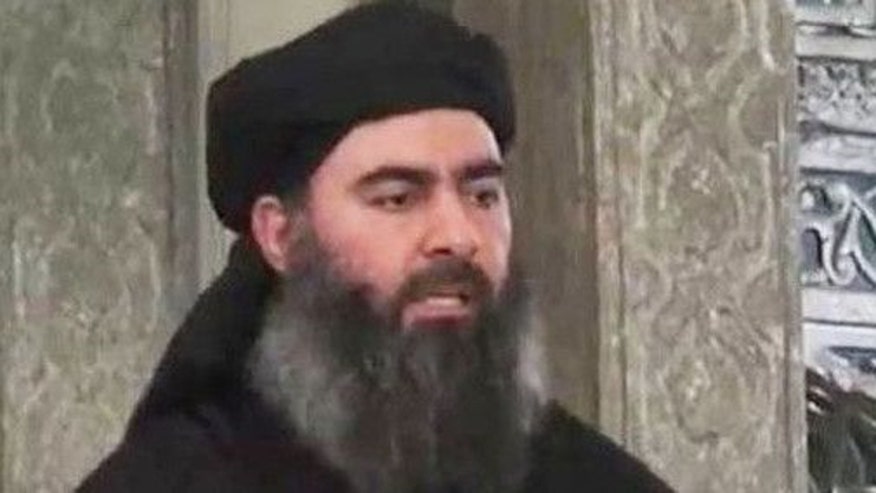 Top Islamic State leaders may be trying to cut through the confusion and chatter coming out of their so-called caliphate, cracking down on social media accounts that claim to speak for the terrorist organization, Fox News has learned.
In a highly unusual move, ISIS leader Abu Bakr al Baghdadi and the group's spokesman, Mohammad al-Adnani, said only four accounts were authorized to speak on their behalf with any future messages, according to social media message traffic reviewed by Fox News. The brief warning, which contained only a dozen lines, appeared to come in reaction to recent confusion over the fates of Islamic State hostages.
"No one has the right to speak on behalf of the Islamic State or its Emir or its spokesperson."

- Official message from ISIS
"The Caliph Abu Baker Al Baghdadi and Shaykh Abu Mohammad al-Adnani al-Shami do not have accounts on social media," read a translation of the warning obtained by Fox News. "No one has the right to speak on behalf of the Islamic State or its Emir or its spokesperson."
The development came after more than a week of sometimes confusing, sometimes contradictory reports regarding three Islamic State hostages, including a Jordanian pilot whose status is unclear, and two Japanese captives who were beheaded, apparently after Japan refused to pay a $200 million ransom.
"They have problems with leaks, like other organizations, from time to time, so it is not surprising they appear to be trying to maintain message control," said Thomas Joscelyn, of the Foundation for Defense of Democracies.
But Joscelyn said the unauthorized messages may still be valuable, even if they are frustrating for ISIS leaders.
"The Islamic State has a protocol for releasing statements," Joscelyn said. "And anything that doesn't come through the approved channels hasn't been blessed by the organization at the highest levels. It doesn't mean what comes out through non-official channels is wrong, just that it hasn't been cleared for release."
Various social media accounts that had previously been linked to Islamic State indicated the terrorist army sought to use the Jordanian pilot, and perhaps the second Japanese hostage, in an exchange for a female Iraqi suicide bomber being held by Jordan. The accounts, which are monitored closely by government and private Western intelligence organizations, are typically first to release videos of threats, demands and beheadings.
A counterterrorism source told Fox News the Islamic State leadership "was trying to take back the microphone" and craft a more unified message. A video in which Islamic State claimed to have beheaded Japanese journalist Kenji Goto was released on the Internet Saturday, a week after footage appearing to show the beheaded body of another Japanese hostage, Haruna Yukawa, was released.
But a tweet on Jan. 23 claimed both Japanese hostages were already dead. That, coupled with the fact the latest video did not include references to negotiations for Jordanian pilot Muath al-Kasaesbeh, led some analysts to speculate all three hostages may have been killed "days" before the first video was released.
Jordan has indicated willingness to exchange Sajida al-Rishawi, who is in prison for her role in a 2005 suicide bomb attack that killed 60 people in Amman, for pilot al-Kasaesbeh, who was seized by Islamic State after his jet crashed in northeast Syria in December during a bombing mission against the militants.
But Jordanian officials have expressed frustration in trying to deal with Islamic State, which they've tried to do through tribal intermediaries in Iraq and Syria. And Amman also has sought proof that Al-Kasaesbeh is even still alive, as there have been unsubstantiated reports online that he may have already been killed.
Catherine Herridge is an award-winning Chief Intelligence correspondent for FOX News Channel (FNC) based in Washington, D.C. She covers intelligence, the Justice Department and the Department of Homeland Security. Herridge joined FNC in 1996 as a London-based correspondent.