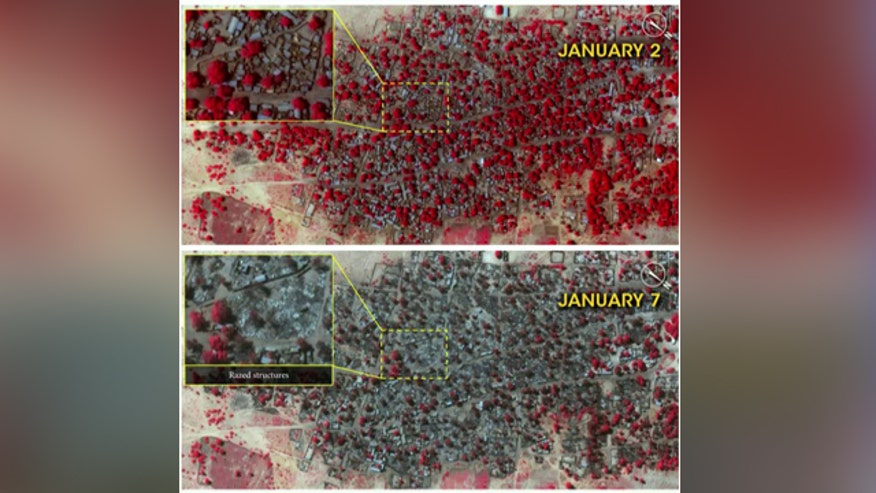 Amnesty International has released satellite images that it says show widespread destruction in two Nigerian towns attacked by Boko Haram last weekend.
The international human rights organization says that the photos show the towns of Baga and Doron Baga in northeast Nigeria, before and after the attacks. The images were taken on Jan. 2 and Jan. 7 of this year. Boko Haram fighters seized a military base in Baga on Jan. 3 and, according to witnesses, killed hundreds of civilians in cold blood in the ensuing days.
"Residents have not been able to return to bury the dead, let alone count their number. But through these satellite images combined with graphic testimonies a picture of what is likely to be Boko Haram's deadliest attack ever is becoming clearer," Daniel Eyre, Amnesty International's Nigeria researcher, told The Independent.
Amnesty International calculates that 3,700 homes and other structures were demolished by the Islamic militants over the course of the attack.
In the aftermath of the assault on the multinational military base, residents were forced to escape to safety across Lake Chad in canoes. They said insurgents fired at them with rocket-propelled grenades and automatic assault rifles, and hurled explosives.
"They came in their hundreds driving several Hilux patrol vehicles, trucks and some were on motorcycles and immediately began to throw explosives and bombs," fisherman Audu Labbo told The Associated Press.
Initial reports citing the testimony of eyewitnesses suggested that as many as 2,000 civilians may have died. However, the Nigerian military has claimed that only 150 were killed, a number that includes casualties among the militants. Outside observers, including Amnesty International, have repeatedly accused Nigeria's government of giving false information about attack casualties to downplay the strength of the insurgency.
A military officer said that more than 10 days later, Baga remains under the control of Boko Haram.
"We have not heard any order deploying soldiers to return to Baga for now," he told The Associated Press. He spoke on condition of anonymity because he feared being punished by his superiors for talking to the press.
The terror group, whose name roughly translates to "Western education is forbidden" in English, rose to prominence this past April when it kidnapped 276 girls from a school in the town of Chibok. Dozens escaped but 219 remain missing.
Boko Haram is believed to control approximately 20,000 square miles of territory across two states in northeastern Nigeria. In Borno, where the group was created, Boko Haram holds 14 of the 27 local government areas including all the border crossings into Niger, Chad and Cameroon. The insurgents have declared they were recreating an ancient Islamic caliphate that included parts of Cameroon, Chad and Niger.
Amnesty International estimates that the group killed 4,000 people in 2014.
This week, hundreds of Boko Haram fighters attacked a Cameroonian military camp near the border, but, according to Cameroonian officials, they bit off more than they could chew. Cameroon's government said Tuesday that its military killed 143 militants with only one Cameroonian soldier killed.
Boko Haram also holds small parts of Nigeria's Adamawa and Yobe states. While most attacks occur in the northeast, leaving many Nigerians remote and uncaring about the conflict, hundreds were killed last year in car bomb attacks in Abuja, Nigeria's capital, and in Jos, both in central Nigeria.
Analysts say Boko Haram fighters numbered no more than 4,000 or 5,000 about 18 months ago when they began abducting hundreds of mainly young females and males. The group also has been recruiting fighters for pay in neighboring countries.
While there is little likelihood of Boko Haram overrunning Nigeria, many worry that the group's hostility to democracy will increase attacks around Nigeria's Feb. 14 presidential and legislative elections. Nigerian troops have been unable to snuff out the insurgency despite a pledge by top commander last year to do so in a three-month span.
Nigeria's military budget amounts to between $5 billion and $6 billion a year, yet soldiers are reportedly being sent into battle with just 30 bullets, former U.S. Ambassador John Campbell to Nigeria told The Associated Press. Several generals last year were found guilty by a court-martial of delivering arms and information to Boko Haram. Soldiers say they are demoralized because Boko Haram outnumbers and outguns them where they're deployed in hostile territory without even food rations and because officers steal part of their salaries. Some of the troops who are supposed to be rotated every six months have been in the war zone for more than two years.
Campbell, now a member of the Council on Foreign Relations, said that Nigeria's military, once considered the single national institution that would prevent the country from breaking apart, is riven by tribal and religious cleavages.
Nigerian officials insist that voting will be carried out in the northeast next month, but it will be a challenge if not impossible to conduct the polling in an area where some 1.6 million people have been driven from their homes and in places where even government soldiers don't dare to tread.
Click for more from The Independent.
The Associated Press contributed to this report.